Bake a Meaty Dog Treat Recipe
for Your Little Carnivore
Baking a meat based dog treat recipe is one of the most versatile types of treat you can make.
There are so many different types of meat, fowl, and fish to choose from. These lists are by no means complete, but they will get you thinking of all the possibilities that exist for homemade dog treats.
Do I Smell a Meat
Dog Treat Recipe?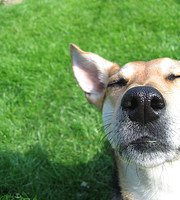 Photo courtesy of :mrMark:
Why is meat in your homemade dog treats so important for your dog? One word - Protein.
The proteins mentioned here, actually the amino acids in proteins, are what is vital to your dogs' diet. These acids work like building blocks for your dog to build and replace body tissues, organs, hormones, and support the immune system.
So the next time your dog is trying to convince you she needs another treat, bake these meat dog treats and give her one extra, knowing that they're supporting her overall health.
Varieties of Meat to Choose:
Beef
Lamb
Buffalo
Rabbit
Venison
Varieties of Fowl to Choose:
Chicken
Turkey
Duck
Ostrich
Quail
Choosing to bake a dog treat with fish is a fantastic way of introducing Omega fatty acids into your dogs' diet. You can read more about the health benefits of fish oil for dogs, by reading our tips and techniques.
Varieties of Fish to Choose:
Tuna
Salmon
Sardines
Mackerel
Herring
Anchovies
Trout
Catfish
Then there's the wonderful world of liver, well, at least it's wonderful to your dog. Liver is classified as offal, and although there are many things you can make for your dog in this category, we're going to stick to liver and tripe. If your dog has a favorite offal homemade dog treat recipe, please share it with us and other dog lovers alike. For information on choosing liver for liver dog treats, be sure to read our tips and techniques.
No matter what activity you are partaking with your dog, whether it be agility, in the show ring, or learning a new trick, a meat based dog treat is a sure way to keep your dog's attention.
Beef & Pork:
Frozen Meatballs - Serve Fresh or Frozen for a Cool Summer Treat

Puppy Dog Cake - Hide a Variety of Nutritious Vegetables in this Cake

Bacon Homemade Dog Biscuits - Sweet Treat with Peanut Butter

Dog Biscuits Recipe - Sweet BBQ Beef Biscuits with Wheat Germ

Making Homemade Dog Treats - Cheesy Hamburger Happiness Patties

Puppy Cake - Bacon & Chicken Layer Cake

Recipe for Homemade Dog Treats - Pumpkin, Sausage, & Potato
Fowl:
Dog Biscuit Recipe - Easy Recipe Made with Chicken Broth

Organic Dog Treats - Turkey Loaf with Brown Rice

Chicken Jerky Dog Treats - Use a Dehydrator or Your Oven

Homemade Dog Biscuit Recipes - Turkey & Stuffing

Homemade Dog Biscuits - BBQ Chicken Biscuit with Rye Flour

Wheat Free Dog Treats - Made with Turkey and Sage
Fish:
Homemade Dog Treats with Tuna - Four Herb Tuna Tots

Salmon Dog Treats - Don't Forget the Yogurt and Dill Dipping Sauce

Fish Oil for Dogs - Learn All the Health Benefits
Liver & Tripe:
Cranberry & Liver Brownies - Be Your Dogs Hero with These Treats

Liver Gravy - Pour Over Your Dogs Main Meal, or Serve Frozen

Grain Free Dog Treats - Liver & Potato Flakes

Dog Cookie Recipe - Tripe Pom Poms are Great for Training

Liver & Carrot Brownies - Treats with a Boost of Vitamin A

Liver Dog Treats with Cheese - Two Favorite Ingredients Combined

Dehydrated Liver Dog Treats - Makes Great Dog Training Treats

Liver & Cottage Cheese - Use Small Cookie Cutters for Training Treats