Gourmet Dog Treats
Made at Home for Less!
Gourmet dog treats? It may not seem like these three words go together, but they do!
You may be thinking if the word gourmet is used in a recipe then it must mean that it is complicated or hard. Well, it doesn't have to be! Baking a gourmet cookie for your dog can be easy. You just need to know a few tips and techniques.
So what makes a dog biscuit gourmet? The same thing that makes people food gourmet: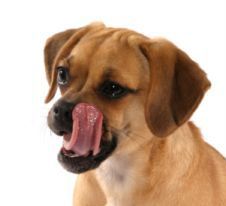 ingredients of very high quality
uncommon food combinations
appearance given extra effort, creativity or artful touches
If your dog is a treat foodie, this is just what he's been waiting for. Some of the recipes you can expect to find use unusual ingredients. These may include salmon, venison or liver. Or, on the sweeter side, you'll find dog treat recipes for dessert cannolis, lollipops and carob truffles.
Another thing that makes a dog treat gourmet is the dog treat icing and the technique used to apply it. We will explore different techniques and styles of application, and bring the best back to you.
There are several things to keep in mind when baking and serving your dog a gourmet treat:
Sugar -These treats can be higher in sugar content, so you would want to limit the amount eaten at one time.


Storage -Often they are more delicate than everyday dog biscuits. You will want to store them like you would other perishable baked goods (covered tightly on the counter, or if you live in a warmer climate, in the refrigerator). You also may be able to freeze certain treats for later enjoyment.


Experience -Some of the recipes require a more experienced baker. If you are using ingredients of high quality (and possibly high price), you might want to consider testing your skill on one of the easy dog treat recipes until you get the hang of it.
Baking gourmet dog treats doesn't have to be difficult. Choose ingredients of unsurpassed quality, make them with love, and maybe top with some dog treat icing! Your little one may become refined and start raising a pinky paw toe while enjoying her homemade dog treats!
Gourmet Dog Treat Recipes:
Crunchy Squirrel Dog Treats - with Sunflower Seed Tails

Decandent Pumpkin Donuts - Drizzle with Almond Milk Glaze

Banana Bread - Cute Little Loaves Just for Your Dog

Pizza Dog Treats - The Topping Choices are Endless

Gingerbread Dog Treats - Make Gingerbread Men, Dogs or Bones

Pumpkin Biscotti - Twice Baked Dog Cookie for a Sweet Tooth

Peppermint Candy Canes - A Seasonal Favortie Made Sugar Free Just for Your Dog

Cheesy Biscuit with Cheese Filling - Delicious with Peanut Butter

Thumbprint Peanut Butter Dog Treats - Classic Favorite Just for Your Dog

Recipes for Dog Cookies - Oreo Style Dog Cookie with Carob

Gourmet Cinnamon Buns - With Cream Cheese Icing

Peanut Butter Lollipop - Fun to Make with Dog Shaped Lollipop Molds

Gourmet Chicken Liver Gravy - Chicken Liver Gravy

Salmon Cakes - Don't Forget the Yogurt and Dill Dipping Sauce

Gourmet Dog Treat - Seasonal Favorite - Fruit Cake