How To Make Dog Treats
Like a Master Chef
Do you have questions about how to make dog treats? Is your dog practically begging you to get in the kitchen and bake him the best dog treats around, but you're not sure where to start?
Even though your dog may want to throw on an apron and bake a fresh batch of homemade dog cookies, she still needs your help. That's where I come in with helpful tips and techniques for every aspect of how to make dog biscuits.
Can We Bake Dog Treats Now?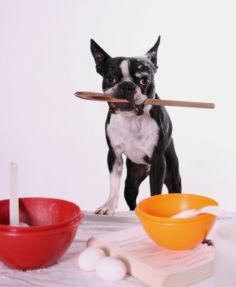 Making your own dog treats is a fun activity to share with kids or grand-kids. They're never too young to start learning about nutrition, cooking, and baking. It's possible that if they see the littlest family member gladly eating her vegetables, they'll give theirs another try, too.
Baking homemade dog biscuits is quite simple. Especially if you start with our easy dog treat recipes. For example, you could try the peanut butter dog biscuit recipe with oatmeal. With only four ingredients, you're sure to have the makings on hand, and be able to whip up a batch anytime.
Highlights:
Rolling Dough - Knowing the trick to successfully rolling out dog treat dough is a must. This is a great technique to master because once you do, you can use all those fun dog bone cookie cutters!


Storage - Maybe you'd like to know how to store homemade dog treats so you and your dog can enjoy your baking efforts longer.


Shipping Homemade Dog Treats - Once you see the joy that homemade dog treats bring to your dog, you'll want to share it with every dog you know. We help you do that with how-to tips on shipping cookies, dog biscuits, and other dog treats.


Specialty Pans - We even have tips for baking a dog cake in a bundt pan.


Preservatives - When you go to the work of making your own homemade dog treats, you want them to last. We've gathered some of our frequently asked questions regarding homemade dog treat preservatives to help you understand some of your options.
Whether you have questions on how to make dog treats, techniques for frosting with dog treat icing, or anything in between, we're here to help. Sometimes all you need is a quick refresher course in a certain area. Then, before you know it, you'll be making dog treat recipes like a pro. You may even get comfortable enough to start creating your own dog treat recipes. Then the possibilities are quite endless. Happy Dog Treat Baking!
Tips & Techniques:
Dog Treat Storage - How to Store Dog Treats Properly
Homemade Dog Treat Preservatives - What Kind Should You Use?
How to Ship Dog Treats - Mail or Ship Dog Cookies as Gifts
Bake a Bundt Dog Cake - Easily & Successfully Bake a Bundt Cake