Homemade Dog Biscuits
with Peanut Butter & Bacon
If you want to make homemade dog biscuits that are sure to be a hit, then you've got to make this bacon and peanut butter dog biscuit recipe.
Since bacon is high in fat and sodium, this may not be an everyday biscuit. But we've tried to off-set the indulgent ingredients with healthy and nutritional ones, like ground flax and wheat bran.
With two of dogs favorite flavors, all in one dog treat, get ready to wipe the drool off the floor, and make extra batches!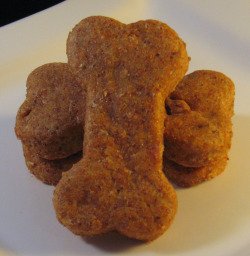 Ingredients:
2 pieces bacon, thick cut, cooked
and crumbled (see tip)
1/8 cup bacon grease
2 cups whole wheat flour
1/4 cup ground flax
1/4 cup wheat bran
2 tsp baking powder
1/2 cup natural peanut butter
1 egg, lightly beaten
3/4 cup water
Instructions:
Preheat oven to 325° F
Cook bacon until crispy. Drain on a paper towel.
Pour the bacon grease into a glass measuring cup.
In a large bowl, whisk together the flour, ground flax, wheat bran, and baking powder.
Crumble the bacon, once cooled, and stir into the flour mixture.
In a microwave safe bowl, warm the peanut butter. Approximately 30 seconds.
In a medium bowl, lightly beat the egg. Then pour in the peanut butter, water, and bacon grease. Use a fork to whisk together the wet ingredients until completely combined.
Make a well in the dry ingredients, and pour in the peanut butter mixture.
Stir until combined.
Knead lightly in the bowl with your hands.
Lay down one large sheet of parchment paper, roll your dough onto it, then lay another piece of parchment on top. You'll essentially have a dog treat dough sandwich. See the video for tips.
Roll out to 1/2 inch thickness.
Lightly spray a baking sheet with non-stick cooking spray.
Cut shapes out of the dough and place on your prepared baking sheet. Gather the extra dough, knead into a ball, and repeat the process of rolling and cutting until there is no more dough.
Bake for 15 minutes.
Turn off the oven and leave them there to cool for 2 hours or overnight.
Storing - These homemade dog biscuits will stay fresh in the refrigerator for up to two weeks. They will keep in the freezer for up to 6 months.
Yield - Using a 3 inch bone shaped cookie cutter, you will get 18 homemade dog biscuits.
Tips & Techniques
Ground Flax - Flax has so many wonderful health benefits. Learn more about using flax in your homemade dog treats, with our Cheesy Flax Squares recipe.


Choosing Cookie Cutters - Because this recipe uses baking powder, these peanut butter dog biscuits will puff up some during the baking process. Because of that, you will want to choose a dog cookie cutter that has simple shapes. The puffed cookie will not show the same amount of detail as another dog treat recipe.


Crumble Bacon - After the bacon is cooked and cooled, it's time to crumble. Instead of doing this by hand, one tiny piece at a time, break your bacon into large pieces and place in a plastic zip-lock bag. Then easily break and crumble the bacon inside the bag with your hands. This saves time and greasy fingers! :)


Bacon Grease - Pour the grease into a glass measuring cup, as opposed to a plastic one, because it will be very hot. You can make these homemade dog biscuits even more special by using the entire amount of bacon grease, instead of just 1/8 of a cup. If you choose to do this, do not add the full amount of water. Depending on how much extra grease you have, add the water 1/4 cup at a time. Continue adding water, up to 3/4 of a cup if needed, to make the dough combine.


Choice of Bacon - If your dog loves bacon, but needs to keep his homemade dog biscuits on the healthier side, you can use turkey or low-sodium bacon for this recipe.


Peanut Butter - Once you have warmed the peanut butter, try to work quickly adding the other wet ingredients. The reason is that the peanut butter will start to harden, and it's much easier to combine everything while it is still quite warm.
When one of my taste tester tried these homemade dog biscuits, it was all she could do to hold still and wait for the treat, while a line of drool hit the floor. If you have yet to make your own dog treats, this is the recipe to start with. Your efforts will be highly rewarded, and appreciated.
What's Your Dog's Tastebud Feedback?
Have you made this recipe? What was your experience? Did your dog gobble it up or take a polite sniff and walk away?

Share your dog's Taste Bud Feedback with other dog treat bakers.

Share photos of your dog, or your dog eating this homemade dog treat, or how the finished dog treat looks! :)
Dog Treat Bakers Experiences:
Click below to see what other dog treat bakers are saying...