Frozen Dog Treats:
Creamy Yogurt Dog Pops
Fresh cool water, check. Plenty of shade, check. Frozen dog treats with tuna? You can check that one off your dogs list in just a moment. This easy dog treat recipe will come together in a manner of minutes. Once frozen they are sure to cool your pup and satisfy her tastebuds.
When it's hot outside, the last thing you want to do is turn on your oven. That's why we developed a quick heat free dog treat recipe. You can customize the recipe with dried herbs. We like dried parsley, but dill is a wonderful and traditional choice for seafood dog treats. If you don't have dried herbs, don't sweat it. These frozen dog treats are just as good plain.
Do you prefer to make vegetarian dog treats? You can make this dog treat recipe vegetarian by using a 1/2 cup of pureed fruits or vegetables in place of the canned meat.
We used an adorable fish shaped ice cube tray for our treats, but you can use a classic plastic ice cube tray instead. Let the tray sit at room temperature for a minute or so to help the treat cubes pop out easier. You can also use small paper cups, like mini muffin liners. Once the treats are frozen you will need to tear away the paper before serving to your dog.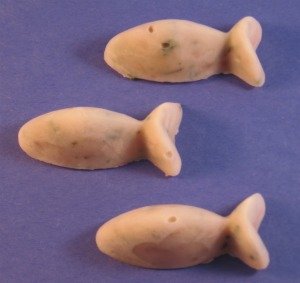 Ingredients:
1 - 5 oz. can of tuna in water
2 cups of plain nonfat yogurt
1 tbsp. dried parsley
Instructions:
Empty the contents of your can of tuna in a medium bowl. Do not drain the water.
Using a fork, break apart the tuna until it is completely shredded into small pieces.
Add the yogurt and dried parsley.
Stir until thoroughly combined.
Using a spoon, carefully fill each compartment of your ice cube tray.
Freeze until solid, a couple hours, depending on the size of your cubes.
Release only the amount of cubes from your tray that you will be serving immediately.
Store the unused cubes in the tray, or in a labeled freezer bag.
Storing - These frozen dog treats must be kept frozen. They will keep fresh in the freezer for up to 6 months.
Yield - Depending on the size of your cubes, you will be able to make 1 1/2 to 2 full ice cube trays of dog treats.
Tips & Techniques
Beyond Tuna - Tuna in water is an economical choice for these frozen dog treats. However, you can just as easily substitute the tuna for the more luxuriant albacore tuna, canned salmon, chicken or even ham. Make sure that your can size stays at 5 oz. no matter what meat you choose. With the alternative meat ingredients, you will need to drain the liquid into your mixing bowl first. They empty your contents onto a cutting board and finely chop the meat. You want very small pieces so that they will mix better with the yogurt.


Active Dogs - If you have a very active dog, you have another ingredient option. If you and your dog regularly participate in agility, or in other competitive dog sports, you may consider using the tuna in oil for these frozen dog treats. Your dog may benefit from the added calories this variety provides.


Might be Messy - This is a dog treat best served outside, or on a tile floor. It may take several licks, or a bite or two for your dog to finish this treat, and in the meantime it will start to melt. Take away the stress of a mess and serve in a very easily cleaned location.
When the heat outside becomes too much to handle, whip up a batch of these frozen dog treats. You and your dog can still enjoy the great outdoors, once you're prepared to beat the heat with fresh water, shade and lots of delicious homemade dog treats.
What's Your Dog's Tastebud Feedback?
Have you made this recipe? What was your experience? Did your dog gobble it up or take a polite sniff and walk away?

Share your dog's Taste Bud Feedback with other dog treat bakers.

Share photos of your dog, or your dog eating this homemade dog treat, or how the finished dog treat looks! :)
Dog Treat Bakers Experiences:
Click below to see what other dog treat bakers are saying...