Tested, Original & Delicious ...
Your Dog Will Love
Our Easy Dog Treat Recipes
Do you really know what is in that dull dry biscuit you give your dog? Wouldn't you love to know that what you give your dog everyday is the freshest, healthiest and best tasting dog treat she's ever had?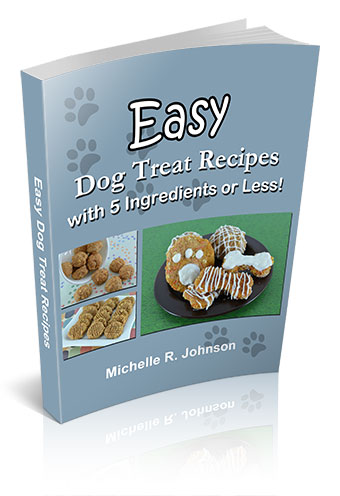 You can with my tested, original, and customizable dog treat recipes!
But, you may be wondering …..
"I've never made dog treats before!
Can I really make something
healthy at home?"

"I'm not an experienced baker,
heck, I hardly cook for myself!"

"I just don't have the time
to source ingredients and
make gourmet dog treats."
If you've ever thought that, then you'll love my new collection of .....
15 Original Easy Dog Treat Recipes with 5 Ingredients or Less!
This 55 page cookbook gives you 15 super easy recipes with common baking ingredients. Actually, there's a good chance you already have most of the ingredients in your pantry right now!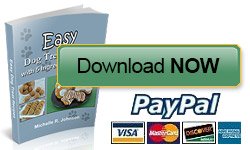 Our Easy Recipes Include:
No Bake treats, just chill and go
Microwavable treats are ready in minutes
Cupcakes with frosting
Meaty favorites with tuna or bacon
Frozen yogurt pops for a hot day
Veggie based treats
and of course, Peanut Butter!
You will receive ways to customize each recipe by using wheat free, gluten free and grain free flours.
Plus you'll receive common substitutions for each recipe so you can cater it to your dogs needs.
And, there's no need to guess at how many treats you'll get or how long each recipe will take. We give you the yield and approximate times for preparation.
I love the pictures, not only of the finished product, but the step by step pictures! The list at the beginning of tools you will need will come in handy for those of us who aren't experts in the kitchen. Also, I love that you listed how long it will last in the fridge or freezer! When you say easy recipes, you mean easy!! ~ Lindsay, Mom to Sprocket & Gizmo
Inside You'll Find:
15 ORIGINAL Dog Treat Recipes - You won't find these recipes anywhere else!


Tested Recipes - All of the recipes have been tested in a real home kitchen to take out the guess work of making a new recipe.


Over 90 Original Photos – That's an average of 6 photos per recipe!


Helpful Tips – We've given specific tips on each recipe, each ingredient and how to properly store homemade dog treats.


Simple Recipes - All of the recipes were created with the novice or busy dog treat chef in mind.
So, what are you waiting for, get these great dog treat recipes for the cost of a bland box of commercially made dog treats!
Show your dogs how much you love them ...
get instant access right now to all these easy dog treat recipes.

$12.99
Now Only $4.95!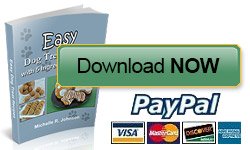 100% Money Back Guarantee – The purchase of this eBook comes with a 30 day money back guarantee. If you aren't satisfied, drop me a line and I will refund your money.
P.S. ~ With this downloadable book you get Instant Access right now to all 15 recipes, helpful tips and over 90 original photos. You also get lifetime free updates.
Please note that you are purchasing an electronic book, or eBook. This is not a physical book. You will be able to download the book and save it to your computer.
NEW! We are now offering this eBook in printed format. This is not a professionally bound book. The format is a color print out of this eBook using an inkjet printer.
$24.99 Only $12.95 with Free Shipping