Homemade Dog Treat Preservatives
When you first start baking, most likely the first homemade dog treat you made was gobbled up without a trace.
I Love Fresh Dog Treats!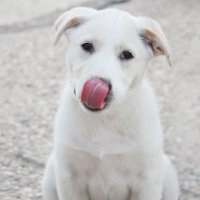 Photo courtesy of Photos8
Now that you are learning what your dog prefers, you may want to save time and make large batches of her favorite dog treat recipes and store them for future enjoyment.
There are several tips on how to store homemade dog biscuits, something as simple as letting your treats cool completely can greatly affect their shelf life.
I also get lots of questions regarding preserving homemade dog biscuits for a dog bakery business. I have listed these questions here to help my fellow dog treat bakers.
Have you ever wondered what type of commercial products to use for dog treat preservatives? Check out these natural alternatives and other dog baking products.
Questions & Answers
When using rosemary extract as a preservative how much do you use?


How Do I Extend the Shelf Life of My Dog Treats?


How Can I Extend the Shelf Life of Liver Dog Treats


How can I add rosemary extract and vitamin E to my dog biscuits?


How much natural preservatives do you add?


This is by no means an exhaustive list of questions or answers. Please feel free to add your comments or answers to any of the questions listed above.
If you are concerned about keeping your dog treats fresher, longer, for a dog bakery, then you will have many other business related questions. You should take a look at my review of a leading dog bakery business book - Bake a Dog a Bone - Turning Your Passion for Pets Into Profits.