Crunchy Pumpkin Recipe
for Homemade Dog Treats
Finding just the right recipe for homemade dog treats can sometimes be a challenge. Your dog may be picky, but I'll be willing to bet that these get two paws up.
We've combined the sweet and savory
for a dog treat recipe that will stick to your dogs' ribs, and make him smack his lips. Not only does it contain sweet pumpkin, but also savory sausage and potato.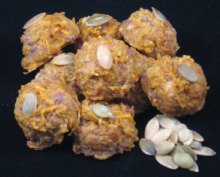 Ingredients:
1 1/2 cup grated raw potato
2/3 cup pumpkin puree (not pumpkin pie filling)
1/2 cup (or 4 oz.) sausage, low sodium
3/4 cup whole wheat flour
3 tbsp canola oil
1 egg, lightly beaten
raw, shelled, and unsalted pumpkin seeds, optional
Instructions:
Preheat oven to 350° F
Wash and dry the potatoes. Grate them with a fine grater, including the skin.
In a medium bowl, stir the potatoes, pumpkin, and sausage. Be sure to really mix these three ingredients together as they have a tendency to clump together.
Once thoroughly combined, add the flour, oil, and egg.
In the bowl, knead all the ingredients until combined.
Lightly spray a baking sheet with nonstick baking spray.
Using a 1 inch cookie scooper, scoop and flatten each pumpkin dog cookie. Or, you can leave them in a cute little rounded cookie shape.
If you are using the pumpkin seeds, now is the time to decorate with them.
Bake for 25 minutes. Turn off the oven and leave them for 2 hours.
Completely cool before serving to your dog.
Storing & Yield: Because this recipe for homemade dog treats uses sausage, you'll want to store these in your refrigerator for up to 1 week. Keep them in the freezer for up to 4 months. The yield for this recipe, using a 1 inch cookie scooper, is 3 dozen.
Tips & Techniques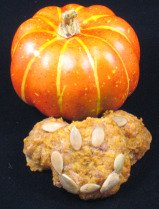 Pumpkin Oil - If you already have pumpkin oil in your pantry, substitute it for the canola oil. It will add a stronger pumpkin flavor to this already yummy recipe for homemade dog treats.


Pumpkin Seeds - If you use pumpkin seeds to decorate your dog cookies, make sure they are raw. Your dog does not need the added salt that comes with some varieties of pumpkin seeds. Also, when decorating the pre-baked cookies, press down lightly into the dough and the seeds should stay put after baking. You can also experiment with mixing the seeds into the dough before baking. Or, another fun idea is to grind up the seeds and roll the cookies in the crumbs before baking.
What's Your Dog's Tastebud Feedback?
Have you made this recipe? What was your experience? Did your dog gobble it up or take a polite sniff and walk away?

Share your dog's Taste Bud Feedback with other dog treat bakers.

Share photos of your dog, or your dog eating this homemade dog treat, or how the finished dog treat looks! :)