Contact Us
Do you have a question? Maybe a comment or two? Then by all means, please contact us. We love hearing from fellow dog lovers.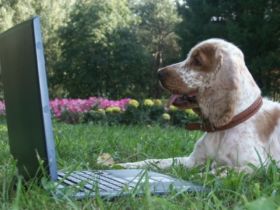 You can also Ask the Chef a dog treat baking quesiton. Don't forget to go over the list of questions already answered to learn more, and see if your quesiton has been answered.
Have a great recipe every dog is sure to love? If you'd like to share your favorite dog treat recipe we'd love to include it on our website.
Do you own your own Dog Bakery or Dog Business? Then take advantage of our free service to submit your dog bakery or dog business to be listed in our directory.
Share your best dog treat baking tips with your fellow newsletter subscribers by using the form below. Each month receive new tips and techniques to make baking dog treats even more fun.
Or, if there's anything else you'd like to bark at us for, please let us know.
If your contact requires a reply, I will get back to you as soon as I can.