Peanut Butter Dog Treat Recipe:
Every Dog's Favorite
You should bake a peanut butter dog treat recipe if this is a familiar sight in your kitchen: You're holding a jar of peanut butter and your dog has an unbreakable trance, staring you down, waiting for a taste.
Very few dogs can resist the allure of peanut butter. Actually, I don't think I've ever met a dog that turns a nose up to a good peanut-y dog biscuit!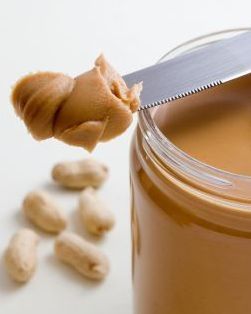 If you've ever had to give your dog a pill you know exactly what I'm referring to. Surround a pill in peanut butter and it's gone before you can say "This is for your own good".
However not all peanut butter is created equal. Creamy or Chunky, learn about the types we
recommend and why.
But how do you choose just one peanut butter dog biscuit recipe from the many available? Look for a recipe that combines another one of your dogs favorite foods. There are several with bacon, cheese and bananas.
The strong aroma of peanut butter has the ability to mask other flavors. So if you're looking to get more veggies into your dogs diet, then choose a recipe that combines the two.
Your dog will enjoy the peanut butter and you'll enjoy knowing he's getting the best ingredients in his homemade biscuits.
If you're looking for an easy peanut butter dog treat recipe, you'll want to start with the Oatmeal and Peanut Butter dog treat. Once you see the joy in your dog's tail, you'll be back to make each of these yummy peanut butter recipes!
Peanut Butter Treat Recipes:
Homemade Peanut Butter - Sugar Free & Salt Free Peanut Butter

Thumbprint Peanut Butter Dog Treats - Classic Favorite Just for Your Dog

Dog Cookie Recipe - Double Carob Chip & Peanut Butter Cookies

Bacon Homemade Dog Biscuits - Sweet Peanut Butter & Savory Bacon

Peanut Butter and Molasses - A Natural & Sweet Choice

Peanut Butter Dog Treat with Safflower Oil - Why use Safflower Oil?

Peanut Butter with Soy Milk - Great for Lactose Intolerant Dogs

Peanut Butter and Oatmeal - Very Easy with Only Four Ingredients

Gourmet Peanut Butter Lollipop - Make with Dog Shaped Lollipop Molds