Frozen Dog Treats
are a Sweet or Savory Refreshment
Frozen dog treats are a welcome treat for a trip to the beach, laying in the sun pool side or a fun filled frisbee day at the beach.
Closer to home, who of us haven't given our dogs a few ice cubes in their water on a hot day? Or if they were really lucky, a few ice cubes to chase around or chomp on.
Yet, our dogs deserve variety and flavor. That's why we have frozen and dog ice cream recipes to choose from. Gone are the days of plain ice cubes. Look out freezer, here we come.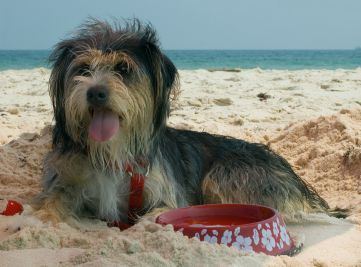 What Can You Freeze for Your Dog?
Vegetables & Fruit - Yep, plain ol' veggies like green beans, squash and sweet potato are fun to freeze and give as a cold treat. Just as fun are icy cool bananas, strawberries and apples.


Chicken & Beef Broth - This should be a staple in your doggie pantry. It makes for great homemade dog treats, like the chicken broth biscuit recipe, but it is also a base ingredient for many chilly dog treats. Broth that is low in sodium is preferable to use for all of your dog treat recipes.


Fruit Juices - You can use fruit juices for cold treats on a hot day. It's best to use juices that are lower in sugar. For example, look for juices that list "no added sugar".


Yogurts - Another base ingredient, is plain low fat yogurt. You'll find many ways to mix this into your frozen dog treats.


Baby Foods - These make a nice addition to a cool snack. Use organic fruit or vegetable blends for added flavor.
Tips & Techniques
Ice Cube Trays - When using ice cube trays to freeze treats for your dog, you may want to buy a set just for him. You can make them a different color or style than the trays your family uses. There's nothing worse than putting a chicken broth ice cube in your glass of water!


Cupcake Liners - You can use paper liners instead of ice cube trays to freeze treats. Once frozen, let them sit at room temperature for a few minutes. Then simply tear away the paper liner and watch your dog enjoy her treat.
Keep in mind, any time you're warm, your dog most likely is, too. So, when you come back from a long walk, hanging out by the pool or really working up a pant by competing in agility or fly-ball, remember, homemade frozen dog treats are sure to hit the spot.
Frozen & Cold Dog Treat Recipes:
Tuna Pops - 3 Ingredients Makes a Tasty Frozen Treat

Frozen Recipe Dog Treats - Peanut Butter & Jelly Smoothie Pops

Dog Ice Cream - Tempting Peanut Butter & Carob Swirl

Dog Food Treat - Use Your Dog's Wet or Dry Food

Ice Cream for Dogs - Meaty Treats for Your Little Carnivore

Homemade Dog Treat Recipes - Frozen Meatballs

Dog Ice Cream Recipe - Pumpkin Pops are a Refreshing Treat