Gourmet Dog Treat Recipes
Lip Smacking Gravy
Is your dog tired of the same old dog biscuit? Then you will want to try gourmet dog treat recipes. This particular one for lip smacking gravy will have your pooch howling for more.
You'll love this dog treat recipe because of the ease of preparation, and with dog treat pantry staples, you can make this treat anytime.
We prefer chicken livers for this recipe because of their small size. They cook quickly, are readily available in stores, and they are less aromatic than calf livers (if you've ever cooked liver, you know to what I'm referring).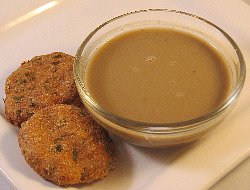 Although the chicken flavor is what your dog will most likely be after, the addition of oregano has a two pronged effect. The first, is that oregano has high antioxidant levels, contributing to your dog's health.
The second, is oregano makes the chicken livers smell divine while they are cooking, not an easy task, but this humble herb does the trick.
You can mix up the recipe a bit by substituting rosemary or thyme, they both will add nice subtleties to the liver gravy.
Ingredients:
2 tbsp. canola oil
1 lb. chicken livers
2 cups chicken broth
1 tsp dried oregano
Instructions:
Rinse the chicken livers in a mesh strainer and drain well.
Heat oil in a skillet over medium heat.
Add chicken livers and sprinkle on the oregano.
Use a wooden spoon to break apart the livers as they cook and simmer in the oil.
Cook the livers until browned, about five minutes.
Pour the cooked livers into a blender.
Pour in the chicken broth.
Puree the mixture until smooth.
Cool completely before serving.
Storing - This liver gravy, like other gourmet dog treat recipes, should be kept in the refrigerator for about a week. You can easily measure out serving sizes and freeze for later enjoyment. This gravy will stay fresh in the freezer up to 6 months.
Yield - You should get about 3 cups of lip smacking gravy from this recipe.
Tips & Techniques
Broth - We recommend low sodium organic chicken broth, for this gourmet dog treat. However, you can use regular chicken broth or even beef broth.


Calf Liver - You can also use beef liver in this dog treat recipe. Cut the liver into small pieces before cooking to ease puree process. You may also need to adjust the cooking time. Just be sure that the livers are cooked well for this gravy recipe.


Fresh or Dried Herbs - If you'd like to use fresh herbs, remember the rule of 3 to 1. For any dog treat recipe with herbs, you can substitute fresh for dried or visa-versa. In this recipe you would use three times the amount of fresh to dried herbs. So you would use 3 teaspoons (which is equal to one tablespoon) of fresh minced oregano instead of one teaspoon of dried.
There are so many fun things you can do with this gourmet dog treat recipe. You can serve as is with a biscuit for dog biscuits and gravy. Add powdered or liquid dog vitamins and supplements. Freeze the gravy in little cubes for a summer time treat. Or, my favorite, mix it with low fat plain yogurt or low fat cottage cheese, mix in some biscuits and freeze in your dogs favorite dog treat toy. You will have one satisfied, happy, and healthy dog when you make this and more gourmet dog treat recipes.
What's Your Dog's Tastebud Feedback?
Have you made this recipe? What was your experience? Did your dog gobble it up or take a polite sniff and walk away?

Share your dog's Taste Bud Feedback with other dog treat bakers.

Share photos of your dog, or your dog eating this homemade dog treat, or how the finished dog treat looks! :)
Dog Treat Bakers Experiences:
Click below to see what other dog treat bakers are saying...