Homemade Dog Treats
for Those with Dog Food Allergies
Your dog is itching, scratching and biting again. Is it because of dog food allergies? This is a definite possibility. Dog allergies are becoming more and more common.
The main culprits include:
Wheat
Corn
Chicken
Chicken eggs
Beef
Dairy and
Soy
Here Comes That Itch Again!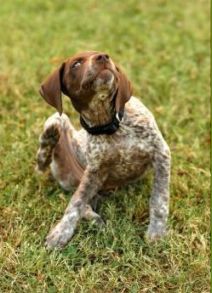 So what are you to do? The only responsible thing dog parents can do. Start the multiple vet visits, allergy tests, blood work and/or elimination diets. After some hard work on your part, and your dogs part, your vet should have a diagnosis.
Whew! What a relief to finally have an answer. Now you know what has been causing your dogs reactions. And, what a relief for your dog as she can finally rest and start to heal from all that scratching. Armed with the knowledge of what is causing the allergic reaction, you can start taking the right steps to choosing a quality dog food or a homemade diet.
But what about treats? Surely your little one deserves healthy and hypoallergenic dog treats. Even though allergy and grain free dog treats are becoming more widely available, they can still be hard to find. So what better way to show love to your dog than with homemade dog treat recipes specifically baked for your dog with allergies.
If your dog has been prescribed a special diet from his vet, you can still make homemade treats. Try one of the dog food treat recipes and ideas to get started.
To start we'll show you a few allergy or grain free dog treat recipes. But, we'll also teach you how to make substitutions to your favorite dog treat recipes to make them healthy for your dog. Choose one of the dog food allergens in the list above to get started for more information.
Your dog can lead a full and happy life with dog food allergies. All he needs is your loving oversight, support and a few tasty allergy free dog treats.
Hypoallergenic Dog Treat Recipes
Make any Dog Treat Recipe Wheat & Gluten Free by Using Wheat & Gluten Free Flour

Kidney Bean Morsels - Made with Spelt Flour & Ground Flax Seed

Collard Greens Baked Treat - Healthy Greens Your Dog Will Love

Roll Out Dog Biscuits - Blank Canvas to Decorate Any Way You Want

Ham & Cheese on Rye - Parmesan Cheese Makes this Cookie Unforgettable

Pina Colada Dog Cookies - Pineapple, Coconut Oil & Honey Make a Sweet Treat

Organic Dog Treat Recipes - Turkey, Brown Rice & Carrots

Grain Free Dog Treats - Liver & Potato Flakes

Wheat Free Dog Treat Recipes - Apple Carrot Nibbles with Rice Flour

Turkey Wheat Free Dog Treats - Dog Biscuits with Sage & Oat Flour