Making Homemade Dog Treats:
Cheesy Hamburger Happiness
The next time you're thinking about making homemade dog treats, this should be the recipe you try. With so many dog treat recipes to make, why this one? Because you've never seen a Hamburger Happiness smile across your dog's face.
Hamburgers and backyard barbecues or picnics go hand in hand. But don't be tempted to give your dog a bite of your hamburger. Many hamburgers are made with onions or onion powder. Even though you may enjoy onions, your dog will not, since they are on the list of foods poisonous to dogs. So stick with these dog safe hamburgers, no bun needed, and invite your dog's whole gang over to enjoy some family fun this summer.
Another great reason for making homemade dog treats is that you are able to use these delicacies for training treats. Break or cut them up into little pieces and you'll have your dog's undivided attention.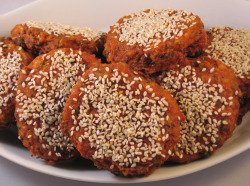 Ingredients:
1 cup lean ground beef (about 1/3 lb.)
2 cups whole wheat flour
2 tbsp. dried parsley
1 cup shredded cheddar cheese
1 egg, lightly beaten
3/4 cup water
1 6 oz. can tomato paste
2 tbsp sesame seeds
Instructions:
Preheat oven to 350° F
Cook and drain ground beef. Set aside.
Whisk together the flour and dried parsley.
Stir in the cheddar cheese and the cooked beef.
In a small bowl beat the egg.
Pour in the water and tomato paste.
Whisk until combined.
Make a well in the beef and flour mixture.
Pour in the tomato paste mixture.
Stir until combined.
Lightly spray a baking sheet with non-stick cooking spray.
Using a retractable ice cream scooper, scoop out flatten patties and place on the prepared baking sheet.
Sprinkle on the sesame seeds.
Bake for 20 minutes.
Cool completely on a wire rack.
Storing - In general when making homemade dog treats with meat, they will keep fresh in your refrigerator for approximately for 2 to 3 weeks. Enjoy them later if you freeze them, up to 6 months later.
Yield - Using a 2 inch retractable ice cream scoop, you will yield approximately 13 patties.
Tips & Techniques
Raw or Cooked Beef - The choice to serve your dog raw or cooked meat is your decision to make. This recipe for homemade dog treats uses cooked ground beef, but you may substitute it for raw if that is how you feed your dog.


Where's the Beef? - You can also use ground chicken or turkey if you prefer or for variety.


Cheddar Cheese - Purchase pre-grated to keep your prep time short. We prefer low or fat free cheddar cheese in this dog treat recipe. You can also use non-dairy cheeses if that's what you have on hand.


Sesame Seeds - When you use the sesame seeds to decorate your hamburger patties, be sure to gently press them into the pattie to keep as many as possible. You can easily substitute flax seeds or dried parsley as a topping, too.


Shape those Patties - You can have a rounded pattie, but that doesn't look much like a hamburger. We prefer to press these dog treats into a pattie shape with a glass or measuring cup bottom dipped in water.


Soft or Crunchy - If your dog prefers crunchy treats, bake these patties an extra 5 -10 minutes and leave in the oven to cool overnight once the oven is turned off. We purposely only baked them for 20 minutes to keep them a softer texture like hamburgers.
The next time you have a cookout, don't forget about making homemade dog treats like these special cheesy hamburger happiness treats. Make the sweet potato dog chew recipe and serve with the hamburgers in place of greasy potato chips. Don't forget one pickle slice to complete the meal.
What's Your Dog's Tastebud Feedback?
Have you made this recipe? What was your experience? Did your dog gobble it up or take a polite sniff and walk away?

Share your dog's Taste Bud Feedback with other dog treat bakers.

Share photos of your dog, or your dog eating this homemade dog treat, or how the finished dog treat looks! :)
Dog Treat Bakers Experiences:
Click below to see what other dog treat bakers are saying...

Concerned about tomato paste in recipe
Since tomatoes are on the list of foods not to feed your dog, I'm concerned about the tomato paste in this recipe. Concentrated tomatoes doesn't sound …