Wheat Free Dog Treats
with Turkey
Wheat free dog treats can be difficult to find when your dog is sensitive or allergic to wheat.
Now you can make these homemade dog treats at least four different ways to satisfy any wheat sensitive taste buds.
Easily substitute the canned turkey for tuna, chicken, or wild salmon. See the tips and techniques for more on using other meats as the main ingredient.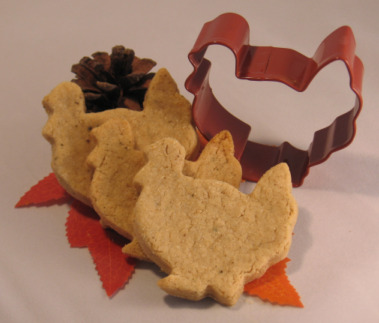 Ingredients:
1 cup oat flour (see note)
1 cup cornmeal
1/2 tsp dried sage
1/4 tsp baking powder
1 5 oz. can of flaked turkey (see variations)
1/4 cup canola oil
2/3 cup water
Additional Flour for Rolling
Instructions:
Preheat oven to 350° F
In a large bowl, whisk together the flour, cornmeal, sage, and baking powder.
In a food processor, puree the canned turkey and scoop into a small bowl.
Next, stir in the canola oil and water into the pureed turkey, until thoroughly combined.
Make a well in the flour mixture and pour in the turkey mixture.
Knead with your hands in the bowl to create a smooth dough ball.
Turn onto a lightly floured surface, knead more if needed, and roll out to 1/4 inch thickness.
Lightly spray a baking sheet with cooking spray and place the cutouts on the baking sheet.
Bake for 20-25 minutes.
Cool completely on a wire rack.
Storing - These turkey dog treats will stay fresh in the refrigerator for up to 2 weeks. You can keep them in the freezer for 4 months.
Yield - Using a 2 inch turkey shaped cookie cutter, this wheat free dog treat recipe yielded 2 dozen dog cookies.
These wheat free treats are so easy to make. Actually, you can make most dog treat recipes wheat free by substituting the wheat flour with oat flour, rice flour, or any other wheat free flour.
Tips & Techniques
Oat Flour - You can make your own oat flour if you don't normally keep it in your pantry. Take a heaping cup of rolled oats, and grind them into a powder, using a food processor. You want to start with more rolled oats than the final measurement you need, just to be safe that you will have the correct amount.


Turkey Variations - These homemade wheat free dog treats are very versatile. You can substitute a 5 ounce can of tuna, salmon, or chicken instead of the canned turkey. If you use canned turkey (or another variation) in oil, you may need to reduce the amount of canola oil you use. Start with half the amount, and add as needed.


Corn Allergy - If your dog is sensitive to corn, you can substitute the corn meal for rice flour or oat flour.


Warm the Treats - Although your dog has a greater sense of smell than you do, try warming these treats before serving. The turkey and sage are so aromatic, and warming them brings out their enticing aroma. I bet you will love the smell of these dog cookies, too! Make them a little warmer than room temperature by heating in the microwave for 5 to 10 seconds. Test them before giving to your dog to make sure they are safe.


What's Your Dog's Tastebud Feedback?
Have you made this recipe? What was your experience? Did your dog gobble it up or take a polite sniff and walk away?

Share your dog's Taste Bud Feedback with other dog treat bakers.

Share photos of your dog, or your dog eating this homemade dog treat, or how the finished dog treat looks! :)
Dog Treat Bakers Experiences:
Click below to see what other dog treat bakers are saying...

My dog is allergic to eggs, wheat, rice, chicken, beef, goat and lamb. How can I make her treats?
It seems that everything in these recipes will make my dog itch. She has many allergies such as eggs, wheat, rice, chicken, beef, goat and lamb. I have …