Homemade Dog Biscuit Recipes -
Turkey & Stuffing Dog Treats
Are you looking for seasonal homemade dog biscuit recipes? Then look no further! Your dog will love the texture of these turkey and stuffing dog biscuits.
The dog biscuit dough is very moist, but it bakes into a hard outer shell. Once cooled, the cookie is crisp on the outside and soft on the inside.
If your dog doesn't care for a soft treat, make each dog biscuit smaller so they will cook through, and be an overall dry treat.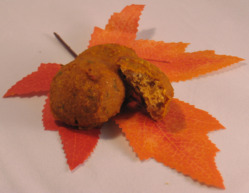 Ingredients:
1 1/2 cups whole wheat flour
1 cup plain bread crumbs
1 tbsp. dried parsley
2 cups pure pumpkin (not pie filling)
2 eggs, lightly beaten
4 ounce jar of turkey baby food, organic is best (see note)
1 cup of warm water
Instructions:
Preheat oven to 350° F
In a large bowl whisk together the flour, breadcrumbs, and dried parsley.
In a small bowl stir the pumpkin, eggs, turkey baby food, and warm water together until combined.
Make a well in the flour and pour in the turkey mixture.
Stir until combined. The mixture will be very moist.
Spray a baking sheet with non-stick baking spray.
Scoop turkey and stuffing dog treats with a 1 inch cookie scooper onto the baking sheet.
Bake for 30 minutes.
Turn off the oven and let sit for another 30 minutes.
Cool completely before serving.
Storing - Like other homemade dog biscuit recipes, this makes a soft dog treat. Store in the refrigerator for 2 weeks. Keep them in the freezer for 4 months. For more information on storing homemade dog treats read our tips and techniques.
Yield - This recipe makes approximately 60 rounded 1 inch dog biscuits.
Tips & Techniques
Turkey Baby Food - When choosing a turkey baby food, make sure to read the ingredient list. Some will contain onion, which is not good for dogs (see below). If you can not find a pure organic turkey puree, choose a turkey vegetable dinner mixture, or something similar.


Substitute for Pumpkin - You can also use cooked, mashed sweet potato instead of pumpkin. Just be sure to really mash, or whip the cooked sweet potato for a smooth textured dog biscuit.


Stuffing - Please do not be tempted to substitute traditional stuffing for the plain bread crumbs. Most pre-made stuffing contains onion which is on the list of foods poisonous to dogs. Store bought stuffing also contains excess sugar and salt for dogs.


Homemade Bread Crumbs - You can make your own bread crumbs by putting a couple slices of dry bread in a food processor. Then sprinkle your crumbs on a baking sheet and pop into a 300° oven for 10 to 15 minutes. Lightly stir the crumbs half way through. Use what you need and freeze the rest for other homemade dog biscuit recipes.
What's Your Dog's Tastebud Feedback?
Have you made this recipe? What was your experience? Did your dog gobble it up or take a polite sniff and walk away?

Share your dog's Taste Bud Feedback with other dog treat bakers.

Share photos of your dog, or your dog eating this homemade dog treat, or how the finished dog treat looks! :)
Dog Treat Bakers Experiences:
Click below to see what other dog treat bakers are saying...

Cooked turkey
How would you best dry cooked turkey? Same as chicken? Might there be some other ways to use it? We humans won't eat all of it and I'd hate to throw …