Finally, Dog Cake Recipes that are
Healthy, Tasty & Cute!
Dog cakes may not be an everyday homemade treat, but that's part of what makes them so special. When you celebrate an occasion with your dog, it's just not the same without a special centerpiece homemade dog cake.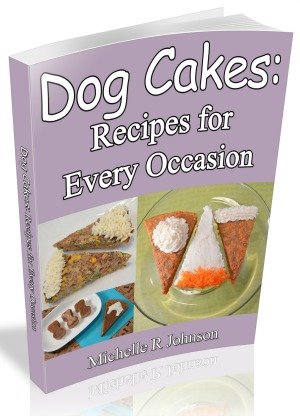 Many people who love their dog don't bake a dog cake because .....
"The ingredients are uncommon"

"The recipe is complicated with
too many steps"

"The whole process is time consuming"

"I only have one dog, I don't want to make a whole dog cake"
If you've ever thought that, then you'll love my new collection of .....
Dog Cake Recipes for
Every Occasion
This 34 page cookbook gives you 5 dog cake recipes and 2 easy dog cake frosting recipes with common baking ingredients, simple instructions, approximate time to prepare and an option for an 8 inch round cake or cupcakes.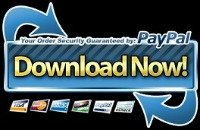 Each ingredient is discussed and a substitution is given to ensure you have full flexiblility in making a healthy and customized dog cake for your individual dog.
Our Recipes Include:
Savory Meat and Veggie Cake
Sweet Pumpkin Cupcakes
Classic, yet dog friendly Carrot Cake
Hearty Peanut Butter & Banana Cake
Decadent Carob Cake
Secret Ingredient Frosting
and a Silky Carob Frosting
Our 3 dogs went nuts for these treats. ~ Susan, Mom to Chili, Queso & Clyde
My two girls are spoiled and get a variety of treats everyday. But I've never seen the "happy circle dance" until I made this great meat cake. I make the cake in a muffin pan and it's so simple and easy. The delight it has given my dogs means I'll be making this recipe for years to come. ~ Mark, Dad to Ginger & Mesha
Success!! Beanie loved the carob cake and reached up to survey the countertop for more. Good job. Dog approved. ~ Paula, Mom to Beanie
Inside You'll Find:
7 ORIGINAL Dog Cake Recipes - You won't find these recipes anywhere else!


Tested Recipes - All of the recipes have been tested and in some cases, retested in a real home kitchen.


Over 45 Original Photos – That's an average of 6 photos per recipe!


Decorating Tips – We've shown you almost 20 differnt ways to decorate these 5 dog cakes.


Dog Party Tips - You'll also find 2 pages full of party tips, ideas and games to enjoy a special day with your dog.
So, what are you waiting for, get these great dog cake recipes and start celebrating the special days with your dog.
Show your dogs how much you love them ...
get instant access right now to all these dog cake recipes.

$12.99
Now Only $4.95!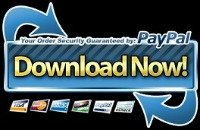 100% Money Back Guarantee – The purchase of this eBook comes with a 30 day money back guarantee. If you aren't satisfied, contact me and I will refund your money.
P.S. ~ With this downloadable book you get Instant Access right now to all 7 recipes, helpful tips and over 45 original photos. You also get free lifetime updates.
Please note that you are purchasing an electronic book, or eBook. This is not a physical book. You will be able to download the book and save it to your computer.
NEW! We are now offering this eBook in printed format. This is not a professionally bound book. The format is a color print out of this eBook using an inkjet printer.
$24.99 Only $12.95 with Free Shipping