About Me

Hi, my name is Michelle Johnson. I'm a regular gal, with an extraordinary love of dogs.
As a child I thought every family had dogs, a special little friend to follow you around and to play with and care for. My childhood friend was Lucy, a scraggly looking mixed breed but a sweetheart nonetheless.
Charlie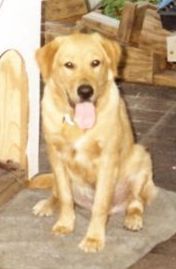 As a teenager, I would pour myself over dog breed books. Learning about each type and variety as if I was going to be tested on the subject. Hours would go by, my Golden Retriever mixed breed, Charlie, sitting by my side.
Once I grew up and got married, I came to realize that not everyone has a special dog in their life. Unfortunately, I came to that knowledge first hand. For the first time I didn't have a dog to share my life with, due to rental restrictions beyond my control.
Kiwi (Green) and Piper (Blue)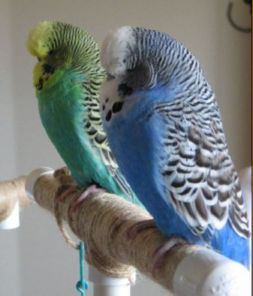 Although I've always had pets to care for, like my two sweet English Budgies and a Mississippi Map Turtle named Norm, there's nothing quite like a furry warm body to snuggle.
During the times I did not have the pleasure of caring for a dog of my own, I found great joy in my friends' dogs. So much so that I was often called upon to pet sit (I still am actually). Then I realized that this could be turned into a career. That's when my husband and I started a pet sitting company. A few years later we had a staff of 30+ sitters caring for dogs (and other animals) in two large counties. What a whirlwind of fur and fun!
Later, we sold the business, and moved to another state. Being that I have always had somewhat of an entrepreneurial spirit, I then started to pursue other interests as full time work. That's when I began to recognize that all the hard work of starting a business disappeared when we moved. What if I started a business in our new home and we moved again?
That's when it dawned on me, the Internet. No matter where we go or what we do, if I had a business on the Internet, I could take it with me! That then led me back to my first passion and love of dogs. The next thing that popped into my mind was how much fun it is to spoil dogs, this thought then led to treats. What better way to say you care than with a sheet pan full of freshly baked nutritious dog treats.
But how was I going to start an online business? I didn't know anything about HTML or stuff like that. My husband had introduced me to SBI a couple years earlier, so I revisited the idea. We started by watching the video tour, doing research and discovered that I could make a business out of my love of dogs. The same video we watched is at the link below.
If you don't have time for a longer tour, check out a short video and more information to read about the path we chose.
Still not convinced? Want examples of others success? Then you'll want to watch these fun videos from others who started a website.
It's funny how things have come full circle. It sounds corny, but truly a childhood dream come true!
Well, now you're up to speed on my life and know that I am here for the dogs, those sweet innocent creatures that we love nearly as much as they love us.