Get a Free Dog Treat Recipe eBook
for Signing Up to Our Newsletter
Sign up to our newsletter, confirm your subscription, and immediately receive your personal copy of my e-Book, The Top Ten Dog Treat Recipes. That's just for signing up! Each issue is packed with helpful tips and recipes.
Each Month You'll Also Receive:
Topic of Interest - Hot topic and seasonal ideas
Product or Ingredient Recommendation - Something we can't live without, or don't want to
New Recipes - You're the first to see new dog treat recipes
Even More - But, you'll have to sign up to see!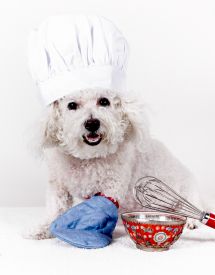 The Dog Treat Mixing Bowl has all the latest ingredients from the Dog Treat Kitchen.com, so sign up and take a peek into my mixing bowl!
By the way, you may be wondering, how is an e-zine like a mixing bowl? Well, the same way a mixing bowl has the latest recipe ingredients ready to be whipped up, this e-zine has the most current and interesting ingredients being mixed up and sent directly to your email in-box.
You will receive your monthly e-zine on the first Saturday of each month.
Want a sneak peek? Then check out our back issues for a preview of what you can expect.
Want more updates, new dog treat recipes, tips and techniques? Then sign up to our Dog Treat Blog to get current changes and additions.