Bacon and Chicken Puppy Cake
This bacon and chicken puppy cake has layers that will make a great presentation for the human guests at your next dog party. But with two types of meat on this dog cake, your dog guests will be just as impressed!
You can customize this recipe in so many ways. For example, try mixing bacon into the yogurt filling for some extra bacon flavor. Or try spelling a fun message on the cake with the bacon crumbles.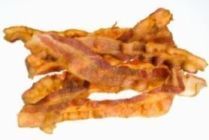 You can also personalize this dog cake recipe by adding shredded plain cooked chicken into the filling or as part of the decoration on top of the dog cake.
Be sure to cut slices of this bacon and chicken puppy cake small as this recipe is not low in fat!
Ingredients:
3 strips of bacon
3 cups whole wheat flour
1 Tbsp. baking powder
1/2 cup butter or margarine, softened
6 eggs, beaten
1/2 cup corn oil
2 jars chicken baby food (organic is best)
2 cups finely shredded carrots
plain yogurt (use less or more depending on how thick you want the dog treat icing and filling)
Instructions:
Preheat oven to 325° F
Grease and flour two 8" round cake pans.
Fry the bacon until crisp. Let drain and then crumble.
Whisk together the flour and baking powder.
In a large bowl, beat the butter or margarine until smooth.
Beat in the eggs and corn oil.
Stir in the chicken baby food and carrots until well incorporated.
Add the flour mixture and mix thoroughly.
Pour the batter into the two 8" round cake pans.
Bake for 60 minutes.
Let cool for five minutes in the pan.
Remove from pans and cool completely on wire racks before decorating.
Decorating:
Place the first layer on a serving plate.
Spread the yogurt on top for the filling.
Place the second layer on top of the filling. Next spread the yogurt dog treat icing on the top and sides of the entire dog cake.
Sprinkle the crumbled bacon on top.
What's Your Dog's Tastebud Feedback?
Have you made this recipe? What was your experience? Did your dog gobble it up or take a polite sniff and walk away?

Share your dog's Taste Bud Feedback with other dog treat bakers.

Share photos of your dog, or your dog eating this homemade dog treat, or how the finished dog treat looks! :)
Dog Treat Bakers Experiences:
Click below to see what other dog treat bakers are saying...

Easy recipe. My dog loved it!
Made this for my Great Dane pups, Ender (9) and Roo (5). They have birthdays that are 2 weeks apart so we celebrate them together. They DESTROYED this …
Gobbled in Seconds!
My dogs wolfed this cake down in mere seconds then spent a minute licking the bowls completely clean!! They absolutely loved it, even though I forgot …