Pumpkin Dog Treat Donuts
Sweet Treats Baked at Home
Our pumpkin dog treat donuts are easy to make at home. Unlike human doughnuts, which can be a time consuming delicacy, these are quick and simple to make at home. Use a mini donut pan to bake up a batch of these sweet cinnamon delights.
Don't judge a book by it's cover, just because this dog treat recipe is called a "Donut" does not mean it is unhealthy. Quite the contrary, it has omega 3 rich ground flax seeds as a main ingredient.
But that isn't our shining ingredient here, the sweet pumpkin is our star. Pure pumpkin, like what you find in a can every fall, is high in Vitamin A and full of healthy fiber. All of this, plus it is very low in calories, perfect for a healthy donut.
No matter how healthy something is for your dog, it won't do much good if she turns up her nose. That's why we've added a heaping helping of cinnamon to these pumpkin dog treat donuts to tempt your little one. And if that's not enough, how about a milk and honey glaze. Besides, it's not much of doughnut without a little sweetness on top.
Our pumpkin dog treat donut glaze isn't like other sweet glazes that use powdered sugar. We've made up a batch with tapioca flour, also called tapioca starch, to create a drizzle that dries hard. Make your donuts ahead of time and drizzle before serving for best results.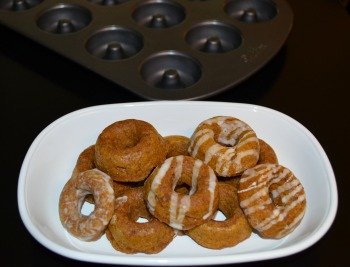 Doughnut Ingredients:
1 cup whole wheat flour
1/2 cup ground flax
1 Tbsp cinnamon
2 eggs
1/3 cup unsweetened applesauce
3/4 cup pure pumpkin
1/4 cup almond milk, unsweetened and plain
1/4 cup chicken broth
Glaze Ingredients: (Optional)
2 Tbsp almond milk
2 tsp honey
5 Tbsp plus 1 tsp tapioca flour
Doughnut Instructions:
Preheat oven to 350° F
In a medium bowl, whisk together the flour, flax and cinnamon. Set to the side.
In a large bowl, beat the two eggs.
Then stir in the applesauce, pumpkin, almond milk and chicken broth until combined.
Gradually add the dry ingredients to the wet. Stir to incorporate after each addition.
Spoon the dough into a disposable pastry bag fitted with a large whole tip.
Lightly spray each cup of the donut pan with non-stick cooking spray.
Fill each cup to the top with the dough.
Bake for 12 minutes.
Let the pan cool on a wire rack for 3 minutes before turning the doughnuts out onto the wire rack.
Repeat steps 7-10 until there is no more dough.
Glaze Instructions:
In a small bowl, whisk together the almond milk and the honey.
Add one tablespoon of tapioca flour at a time and stir together until dissolved.
Once all the tapioca flour is added, drizzle the glaze on the cooled doughnuts.
Let the glaze dry before serving.
You can make the doughnuts ahead of time and then make the glaze and decorate 15 minutes before serving.
Storing - Baked doughnuts, like these pumpkin dog treat donuts, will be good in the refrigerator for about one month. Keep them fresh in the freezer for up to 6 months.
Yield - Using a mini donut pan, you'll have 3 dozen little pumpkin doughnuts.
Tips & Techniques
Mini Donut Pan - You may not have one of these in your supply yet, but they're just too cute to resist. Get a Mini Donut Pan to create these little delicacies. Or, if you can't wait, use a mini muffin pan instead. Increase the baking time by a couple minutes, or until the muffins pull away from the pan.


Adjustable Measuring Cup - Measuring pumpkin can be a pain. I love my adjustable measuring cup and use it whenever an ingredient is tricky to measure. In this recipe it works great for the pumpkin and the applesauce.


Round Like a Doughnut - Your pumpkin dog treat donuts won't come out round like a human donut. We've omitted the sugar, salt and baking powder to keep this homemade dog treat as healthy as can be. The top will be rounded, and once it is glazed it looks more like the "real" thing.


Pumpkin in a Can - Make sure to use only pure puree pumpkin, not pumpkin pie filling, in your homemade dog treats. If you purchase a large can of pumpkin, you can always freeze the left over in 1/2 cup measurements, or smaller, to use at a future time. Be sure to label and date a freezer bag before storing your pumpkin.


Using a Pastry Bag - The doughnut pan has small openings for each mini donut. That's why we recommend using a pastry bag. A disposable one saves on clean up time and makes the whole effort easier. While each batch bakes, stand your pastry bag upright in a tall drinking glass in between uses. If you want to skip the pastry bag, slowly spoon the dough into each cup. Wipe away any excess dough from around the raised indention to get a more uniform donut shape.


Warm cinnamon and pumpkin dog treat donuts make a sweet smell. Reward your sweetie with a batch of glazed or plain doughnuts that will satisfy a sweet tooth, and be healthy, too.
What's Your Dog's Tastebud Feedback?
Have you made this recipe? What was your experience? Did your dog gobble it up or take a polite sniff and walk away?

Share your dog's Taste Bud Feedback with other dog treat bakers.

Share photos of your dog, or your dog eating this homemade dog treat, or how the finished dog treat looks! :)
Dog Treat Bakers Experiences:
Click below to see what other dog treat bakers are saying...

Recipe Reviews for Pumpkin Doughnuts
Read all the reviews for this recipe, and then try it out for yourself. Don't forget to come back here and let us know what your dog thought or ask …