Gourmet Dog Treat -
Fruit Cake for Dogs
Fruit cakes are a traditional seasonal dessert. But this gourmet dog treat will be welcomed any time of year.
Have you ever heard the joke that there's only one fruit cake that never gets eaten and gets passed around from family to family? :) Humor aside, this dog fruit cake will be passed around as gifts once you see how much your dog loves her own personal cake.
The fruit cake is an international dessert that often contains alcohol. Dog cake recipes, including this dog fruit cake, do not contain alcohol since this is on the foods poisonous to dogs list.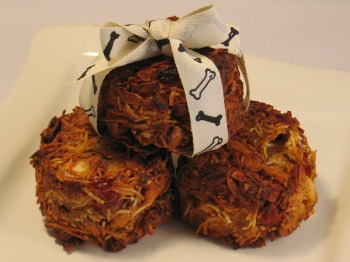 You can easily customize this gourmet dog treat recipe by using different dried fruits, nuts, and flours. See the tips and techniques for ideas.
Ingredients:
3 cups dried fruit (see tips below)
3 cups slivered almonds
2 cups unsweetened coconut flakes
1 cup whole wheat flour
2 eggs, lightly beaten
2 tbsp molasses
2 tbsp canola oil
2 tbsp water
Instructions:
Soak the dried fruit in enough water to cover for 30 minutes.
Drain the fruit and roughly chop.
Preheat oven to 350° F
Pour the chopped fruit into a medium bowl.
Stir in the almonds, coconut, and whole wheat flour and set aside.
In a small bowl lightly beat the two eggs.
Then add the molasses, canola oil and water. Stir until combined.
Add the liquid mixture to the fruit and nut mixture.
Stir until thoroughly combined. The dough will be loose.
Press the dough mixture into a 2 inch cookie cutter (see tips for choosing cutters).
Lightly spray a baking sheet with cooking spray.
Release the fruit cake from the cookie cutter mold, place on the greased cookie sheet, and bake for 25 minutes.
Storing - This homemade dog treat will last in the refrigerator for up to 3 weeks and in the freezer for 4 months. Read our other tips on how to store homemade dog treats.
Yield - Using a 2 inch cookie cutter that is approximately 1 inch to 1 1/2 inch thick will give you at least 12 fruit dog cakes.
Tips & Techniques
A Cake? - This dog treat recipe is not quite a cake. Since it is pressed into a mold or cookie cutter, it's more a cake in looks than it is in technique. But that won't change the way your dog looks at her new treat.


Dried Fruit - You can use several different types of dried fruit, but no raisins. Mix and match dried bananas, apples, cranberries, apricots, papaya, blueberries, and cherries. If possible, choose the unsweetened variety of these dried fruits.


Nuts - You can also use hazelnuts or pecans. But remember that nuts are very high in fat and should be given sparingly.


Flour - If your dog is sensitive to wheat, substitute it for a wheat or gluten free flour like brown rice flour.


Cookie Cutters - If you choose a cookie cutter that is smaller or larger than 2 inches, you will need to adjust the cooking time. This dog treat recipe lends itself to a dog cookie cutter that does not have a lot of detail. The chunks of fruit and nuts fit better into a basic shape. This dog bone cookie cutter set is a good example of a cookie cutter to use.


Using the Cookie Cutters - You will use your cookie cutter like a ring mold. Firmly press the dough into the cutter and then gently squeeze it out. Be careful to not squeeze the cookie cutter while filling it because the tin is usually very flexible and the final shape can be different.
This gourmet dog treat makes a wonderful homemade dog treat gift. So make extra to share with some deserving dogs.
What's Your Dog's Tastebud Feedback?
Have you made this recipe? What was your experience? Did your dog gobble it up or take a polite sniff and walk away?

Share your dog's Taste Bud Feedback with other dog treat bakers.

Share photos of your dog, or your dog eating this homemade dog treat, or how the finished dog treat looks! :)
Dog Treat Bakers Experiences:
Click below to see what other dog treat bakers are saying...