Recipes for Dog Cookies -
Cream Filled Sandwich Cookie
Of all the recipes for dog cookies, this has got to be by far the most ooey gooey. Two soft carob cookies brought together with a luxurious creamy filling.
Does your dog have to take a daily vitamin, supplement or medicine? Then make pill time a happy time. Place the pill in the middle of the cookie, nestled in between the delicious filling and watch the pill disappear.
This is a versatile dog cookie recipe. Easily switch the cream cheese filling for peanut butter dog treat icing (recipe below). Or, if you're watching your dog's sugar intake, use sugar free preserves or jam to make this sandwich dog cookie complete.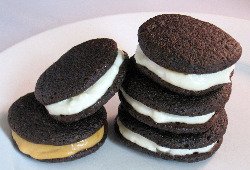 Ingredients:
1 1/4 cups whole wheat flour
1/2 cup carob powder
1 tsp baking soda
1/4 tsp baking powder
1/4 tsp salt
1 large egg
1/2 cup sugar
1/2 cup unsweetened applesauce

Creamy Vanilla Filling

8 oz pkg cream cheese, low or fat free, room temperature
1/4 cup milk, low or fat free
1 tsp vanilla

Instructions:
Preheat oven to 375° F
Cut two sheets of parchment paper to fit your baking sheets, and then line the sheets.
Place both sheets in the oven as it preheats.
In a large bowl, whisk together the flour, carob powder, baking soda, baking powder and salt.
In a small bowl, beat the egg.
Stir in the sugar and applesauce into the beaten egg.
Make a well in the dry ingredients. Pour in the applesauce mixture.
Stir until combined. The mixture will be very moist.
Remove one baking sheet from the oven.
Scoop a rounded teaspoon full of the cookie batter and pour onto the baking sheet. Try to keep the little cookie as round as possible.
Remove the other baking sheet and place the sheet with the unbaked cookies in the oven for 10 minutes.
While the first sheet is baking, repeat the scoop and pour method of placing the cookie batter.
Let cookies cool for 5 minutes on the baking sheet on a wire rack.
Gently lift the cookies off of the parchment paper, and continue to cool on the wire rack.
For the Filling: Using a hand mixer, mix all three ingredients until smooth. For a thick layer of filling, like what is pictured, use a leveled tablespoon of filling. Gently scoop out filling onto the cookie, spread into an even layer and then top with the second cookie. Press the second cookie gently to keep the two dog cookies together. For just a little filling, or for smaller cookies, use a 1 1/2 teaspoon scoop for each sandwich dog cookie.
Storing - These sandwich dog cookies, like all of the recipes for dog cookies here at Dog Treat Kitchen, do not have preservatives. So, you will want to keep these refrigerated for one week, and in the freezer for up to 6 months.
Yield - Using a rounded teaspoon, you will be able to make 60 individual dog cookies, or 30 sandwich cookies.
Tips & Techniques
Parchment Paper - Sometimes parchment paper is a suggested tool to use for recipes for dog cookies. However, you must use the parchment paper for this recipe. If you don't your dog cookies will spread too much during the baking process. This results in a flattened edge, instead of the desired, and adorable, rounded cookie edge.


Removing the Cookies from the Parchment - I found this to be a tricky part of this other wise wonderful recipe for dog cookies. The cookies are very soft, even after they cool. Gently grasp the cookie with your finger tips and at the same time, peel the parchment away from the cookie with your other hand. There will be a little cookie residue left over, but the parchment paper can be used again to complete the baking process with the rest of the cookie batter.


Peanut Butter Dog Treat Icing - Combine 1/3 cup of peanut butter with 1/4 cup of milk. Stir vigorously until combined. Spread onto the dog cookies. Use this dog treat frosting to mix up other recipes for dog cookies.


Size the Cookie for Your Dog - For our dog friends that are smaller in stature, but not in taste buds, cut the dog cookies in half or in quarters. Or, skip this step, and when you make the cookies, use a rounded 1/2 tsp to scoop the dough, don't forget to lower the baking time, too.


Freeze the Dog Cookies - If you want to freeze this dog treat recipe, we highly recommend you do so in a single layer in your freezer. After a few hours you can put them all into a labeled freezer bag.
These adorable cookies, and other recipes for dog cookies can be made in advance for your next dog party. Bake the cookies a few days in advance, and combine the icing ingredients. Before the party ice the cookies for the freshest and most delicious homemade dog treat.
What's Your Dog's Tastebud Feedback?
Have you made this recipe? What was your experience? Did your dog gobble it up or take a polite sniff and walk away?

Share your dog's Taste Bud Feedback with other dog treat bakers.

Share photos of your dog, or your dog eating this homemade dog treat, or how the finished dog treat looks! :)
Dog Treat Bakers Experiences:
Click below to see what other dog treat bakers are saying...