Classic Thumbprint
Peanut Butter Dog Treats
Peanut butter dog treats have never looked this good before! We've adjusted a classic kid favorite, thumbprint cookies, and made them just for your little furry kid.
The bright red color of the strawberry jam make these dog treats a step above. Don't get me wrong, I love baking dog treats. But after awhile, those little brown biscuits are a bit boring. Not so with these sweet and chewy treats.
These peanut butter dog treats are made to impress. So, don't keep them to yourself, make extras to share with all of your dogs friends and family.
Classic thumbprint cookies are called such because the baker, or a child, will press their thumb into the middle of the cookie to create an indentation to later fill with fruit preserves, chocolate and other delectable treats. If you have kids to help you make these homemade dog treats, then by all means, let them shove their little thumbs into these dog cookies.
However, to achieve an even indentation, you may not be able to do so with just your thumb, I know I wasn't able to. So, faced with a challenge, I looked around my kitchen to find something that could do the job for me.
That's when I saw my candy thermometer. It has a small face with a stick (handle) to easily indent and flatten your dog cookie at the same time. Since everyone's thumbs are a little different, you may be able to use your hands, but if not, a little hard working candy thermometer could be your best friend.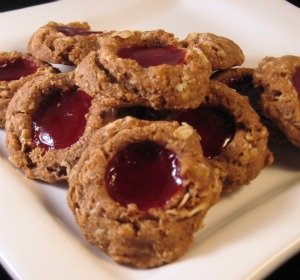 Ingredients:
2 cups whole wheat flour
1/2 cup rolled oats
2 tsp cinnamon
1/2 cup peanut butter, creamy
1/2 cup chicken broth, low sodium
1/2 cup water
1/2 cup strawberry jam, sugar free
Instructions:
Preheat oven to 325° F
Whisk together the flour, oats and cinnamon.
Place the peanut butter, chicken broth and water in a microwave safe bowl. Microwave on high for 15 seconds. Stir together the warm peanut butter and liquids. If needed, microwave again for 10 to 15 seconds. Stir again until all of the liquid is incorporated into the peanut butter.
Make a well in the dry ingredients.
Pour the peanut butter mixture into the dry ingredients and stir, using a fork, until a dough forms.
Lightly spray a baking sheet with non-stick cooking spray.
Using a tablespoon sized cookie scooper, scoop out rounded balls onto the prepared baking sheet.
Create an indentation, and flatten each cookie.
Bake for 15 minutes. Leave the peanut butter dog treats in the oven, once it's turned off, to cool.
Once the dog treats are completely cooled, place the jam in a microwave safe container.
Microwave for 10 seconds. Then stir the jam. If needed, microwave for another 10 seconds and stir. You want a smooth liquid consistency.
Using a 1/2 teaspoon, gently spoon the jam into each cookies indentation.
Let the jam cool completely before moving the dog treats.
Storing - These peanut butter dog treats are delicate with the addition of the jam. First, they need to be stored in a single layer as the jam does not harden completely. Once in a air tight container, like a freezer bag, they can be kept in the refrigerator for one week. Store them in the freezer for up to four months. These gourmet dog treats will keep fresh longer without the jam middle. You can bake the cookies, not adding the jam, and keep them in the refrigerator for up to two weeks and in the freezer for up to 6 months. Then before you serve, follow the last four steps of this recipe.
Yield - Using a tablespoon sized cookie scooper, this recipe will make 30 dog cookies.
Tips & Techniques
Jam or Jelly - This dog treat recipe will work best if you use a jam with little or no fruit pieces. You can use any flavor of fruit jam, but make sure that it is sugar free jam. Our dogs do not need all that excess sugar in their treats. The jam will set rather quickly once it is poured into the cookie. Depending on how quickly you are able to work, you may need to reheat the jam to a liquid consistency to be able to pour it into the cookie with ease.


Artificial & Natural Sweeteners - Using sugar free products can seem perfectly harmless, yet there are ingredients to learn about. Our dogs should never ingest the natural sweetener called Xylitol. This is most commonly found in sugar free gum and candy. However, do a double check of your sugar free jam, to ensure it does not contain this ingredient. The sugar free jam I used for this dog treat recipe contained polydextrose, maltodextrin and sucralose. These have not been found to be harmful to our dogs.


Homemade Fruit Jam - If you are still concerned about sweeteners, by all means, you should make your own homemade sugar free fruit jam. Look for recipes that use a "no sugar needed" fruit pectin for the binding and thickening agent. Some of these recipes also contain honey. Since honey is a natural sugar, and will eventually be a very small amount of the end jam product, it would be an acceptable ingredient. When choosing a recipe for homemade jam, be aware that some use white grape juice. Again, although tasty to us, grapes are on the list of foods poisonous to dogs, so you would want to substitute apple juice instead.


Microwaves - All microwaves are different, and some have more power than others. The microwave directions in this dog treat recipe are a starting point. You may need to use less or more time, depending on your appliance.


Peanut Butter - We used creamy peanut butter for this recipe. You might be able to use chunky peanut butter, but due to the texture of the cookie, and the need to make an indentation and flatten the cookie, we highly recommend the creamy variety.


Broth & Water - To make these peanut butter dog treats even healthier, you could substitute the chicken broth for water. You would add a total of one cup of water, instead of half water and half broth. Or, you could use all chicken broth, or switch it up and use half and half chicken broth and beef broth. Whether you use all broth or not, look for the low sodium variety to keep these treats extra healthy for your dog.


Since so many dogs love the taste of peanut butter, you are sure to find a keeper in these peanut butter dog treats. They are also a great treat to make as gifts. Your dogs friends and their parents will think that you're a dog treat baking whiz with these delightful little gems wrapped in peanut butter.
What's Your Dog's Tastebud Feedback?
Have you made this recipe? What was your experience? Did your dog gobble it up or take a polite sniff and walk away?

Share your dog's Taste Bud Feedback with other dog treat bakers.

Share photos of your dog, or your dog eating this homemade dog treat, or how the finished dog treat looks! :)
Dog Treat Bakers Experiences:
Click below to see what other dog treat bakers are saying...