Cheesy Dog Biscuit Recipe
with a Cheese Filling
Do you have a cheese lover in your house? This dog biscuit recipe is sure to please even the most discriminating cheese palettes. Compared to many different "cheese" dog biscuit recipes, this one has a large amount of two cheeses, cheddar and Parmesan.
Cheese is a good source of calcium and protein, but it is also quite rich. If your dog needs to cut back and loose weight, this may not be the best treat for your dog. However, if your dog is active, or you limit the amount of treats your dog has, it's a delicious treat to add to your baking repertoire.
This dog biscuit recipe is extremely versatile. As long as you have a total of 2 2/3 cup of cheese, you can substitute any number of grated cheeses to this recipe. For example, you could use all cheddar or an Italian blend of Parmesan, Romano & Mozzarella. Or, you can omit the dairy cheeses all together and use almond, soy or tofu cheeses.
It was a challenge, but we found a way to add even more cheese to this delectable homemade dog treat. We did this by combining cream cheese and peanut butter to create a smooth, thick and creamy filling for these biscuits. If you have a cheese lover, don't stop by adding this dip to just these dog biscuits, feel free to use this filling as a dip for any dog biscuit recipe.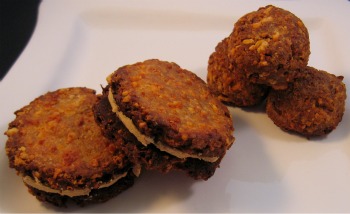 Ingredients:
2 1/2 cups whole wheat flour
2 cups cheddar cheese, grated
2/3 cup Parmesan cheese, grated
2 eggs, lightly beaten
1/4 cup extra virgin olive oil
1/2 cup unsweetened applesauce
Cheese & Peanut Butter Filling:
8 ounces of cream cheese, fat free
1/2 cup peanut butter, creamy or chunky
Instructions:
Preheat oven to 400° F
In a large bowl, whisk together the flour, cheddar and Parmesan cheeses.
In a small bowl, whisk the two eggs together.
Stir in the extra virgin olive oil and applesauce.
Make a well in the dry ingredients.
Pour the applesauce mixture into the dry ingredients and stir, using a fork, until a dough forms.
Lightly spray a baking sheet with non-stick cooking spray.
Using a tablespoon sized cookie scooper, pack the cheesy mixture into the scoop.
Place the scoops on the baking sheet close together, as they do not raise in the oven.
Bake for 18 minutes. Leave the dog treats in the oven, once it's turned off, to cool.
If using the cheese dip to create a cheese sandwich, flatten the rounded cookie and bake for 15 minutes.
Filling Instructions:
In a microwave safe bowl, measure out the cream cheese and peanut butter
Microwave the ingredients at 10 second intervals, and stir after each one, until the mixture comes together easily.
Use a butter knife to spread the filling
Or, scoop the cheese mixture into a zip lock bag and seal. Cut off the tip and squeeze mixture out like a thick frosting.
Storing - This dog biscuit recipe will keep fresh in the refrigerator for up to two weeks. Freeze them for up to 6 months. The cheese and peanut butter dip is best made fresh and used within a week.
Yield - Using a tablespoon sized cookie scooper, this recipe will make 40 dog cookies.
Tips & Techniques
Lactose Intolerant - Some of our dog friends are lactose intolerant. But, there's good news. Some cheeses do not have lactose. Check the nutritional label on the back of the cheese in question. If there are zero (0) grams of sugar in the cheese, it is lactose free. You can then feel safe in making and offering these treats to those with sensitive tummies.


Grated Cheeses - You can find many different types of cheeses already grated in your local grocery stores. This will safe time when making this and other dog treat recipes. However, you can grate the cheese yourself. Just be sure to use a fine grater so the pieces will mix well in the dough.


Dark Biscuits - You may have noticed that my little cheese biscuits in the picture above are kinda dark. There was a mishap in the kitchen! The cookies were left in the oven to cool, then another family member preheated the oven for their treats! The poor cookies never had a chance. But all is not lost, the treats are still tasty, just extra crunchy.


Cheese Filling - One of the best things about making your own homemade dog treats is that you can customize the recipe for you and your dog. For families with one dog, or if you aren't planning on using the filling for all the dog biscuits, you can make a half batch, or even a quarter batch.
If you share your home with a cheese connoisseur, you know what it takes to please them when it's treat time. This cheesy dog biscuit recipe will not disappoint. Make the biscuits smaller, bake for 7-8 minutes, and use these as dog training treats, or for no special reason other than your dog being your best buddy.
What's Your Dog's Tastebud Feedback?
Have you made this recipe? What was your experience? Did your dog gobble it up or take a polite sniff and walk away?

Share your dog's Taste Bud Feedback with other dog treat bakers.

Share photos of your dog, or your dog eating this homemade dog treat, or how the finished dog treat looks! :)