Pizza? Let's Party!
Free Dog Treat Recipes
Many of our free dog treat recipes are fun and can be made for a special dog party. But none of them will have such a wow factor as these pizza dog treats. A classic party treat, pizza sets the tone for a fun and laid back event.
Just like pizza for humans, the toppings are close to endless. Create a customized homemade dog treat just for your party animal. Make individual pan pizzas like we did in small tart pans. Or, make a large pizza and each slice can be a treat.
Try making a simple, yet delicious all cheese pizza. Use a blend of Italian cheeses and pile it high.
How about a meat lovers pizza? Plain cooked sausage, ground beef and bacon are all luxurious choices. Be sure to drain as much fat from the cooked meats before using to top the pizza.
Tomatoes are a healthy addition to your homemade dog treats. The part of the tomato that can be poisonous to your dog is the plant, stem and leaves. The actual fruit part of the tomato is safe. However, if you still aren't comfortable using tomato paste on your pizza, there is an alternative. Use pureed organic baby food as a base. A mash of green beans, peas or squash is a healthy alternative that will still give this free dog treat recipe for pizza a saucy base for the other ingredients.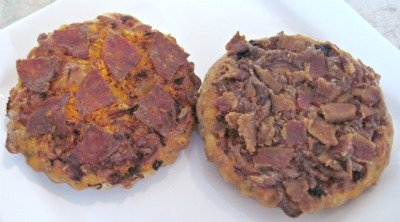 Ingredients: Crust:
2 cups whole wheat flour
1 tsp dried basil
1 tsp dried oregano
1 egg
1/4 cup low fat milk
1/2 cup water
Additional Flour for Rolling
Ideas for Toppings:
tomato paste
pepperoni
mozzarella cheese
bacon, cooked and crumbled
grated carrot
Instructions:
Preheat oven to 350° F
In a large bowl, whisk together the wheat flour, dried basil and oregano.
In a separate bowl, whisk the egg and stir in the milk and water.
Make a well in the dry mixture and pour in the milk mixture.
Stir together until combined.
Knead the dough into a ball. Use more flour if needed to reduce the stickiness.
Roll out to 1/4 to 1/2 inch thickness.
Using a 2 inch biscuit cutter, cut into circles.
Lightly spray a baking sheet with non-stick cooking spray.
Place the unbaked pizza crusts on the baking sheet.
Top your pizzas with the desired toppings.
Bake for 15 to 20 minutes or until the cheese begins to brown.
Cool completely on a wire rack before serving.
Storing - This and other homemade fresh free dog treat recipes should be kept in the refrigerator. In a sealed container they will stay fresh for a week. You can store them in the freezer for up to 6 months.
Yield - There are too many variables to determine how many pizzas you will yield. You could make one large pizza and serve slices. Or, you could bake personal pizzas. The dough amount should make at least 6 thicker crust personal size pizzas.
Tips & Techniques
Dessert Pizza - Now that you can make savory pizza dog treats, don't stop there! Make a homemade dessert pizza dog treat, too. For the crust, use our simple peanut butter dog biscuit recipe. Then for the sauce use low fat or fat free cream cheese. The toppings could include unsweetened shredded coconut and carob chips. Bake the cookie crust first. Then add your toppings. Place the dessert pizzas in the oven for a few minutes to melt or blend the toppings together. Lastly cool on a wire rack before serving.


Extra Dough - Make extra pizza dough for future homemade dog treats. Be sure to wrap it very well in plastic wrap first. Then place in a labeled heavy duty freezer bag and use within 3 months.


Quick & Easy - If you are really short on time, or want to make this free dog treat recipe even easier, use prepackaged pizza dough mix. Inexpensive, quick and simple, just add hot water and you've got a dough. To make it tastier, add the dried basil and oregano to the mix just like the homemade recipe. Follow the directions on the package to prepare the dough. Once you have your dough, follow our instructions for baking and toppings. Beware of hidden onions in your dough mix. Check your dough mix ingredient list for onions, and purchase another mix if it contains anything toxic.
Your dog parties won't be the same without these free dog treat recipes. Take a little extra time to make these pizza dog treats for your next celebration. You'll be the talk of the event, and every dogs best friend.
What's Your Dog's Tastebud Feedback?
Have you made this recipe? What was your experience? Did your dog gobble it up or take a polite sniff and walk away?

Share your dog's Taste Bud Feedback with other dog treat bakers.

Share photos of your dog, or your dog eating this homemade dog treat, or how the finished dog treat looks! :)
Dog Treat Bakers Experiences:
Click below to see what other dog treat bakers are saying...

Recipe Reviews for Pizza Dog Treats
Read all the reviews for this recipe, and then try it out for yourself. Don't forget to come back here and let us know what your dog thought or ask …