Dog Treats Recipe:
Pumpkin Biscotti
Pure pumpkin makes this dog treats recipe a seasonal delight. Traditional Italian biscotti is baked twice, and so is our recipe. Having two baking times makes these dog biscuits extra crunchy.
You can roast your own pumpkin when in season, or use the convience of canned pumpkin. The pure pureed pumpkin, not pumpkin pie filling, is the only kind to use for your gourmet dog treat recipes. If you use canned pumpkin you can freeze what's leftover from the can. Simply scoop the extra into a freezer bag, or even premeasure the pumpkin for future homemade dog treats. Be sure to label it and freeze it flat for easy baking in the future.
After your dog gets a taste of these flavorful pumpkin biscotti, he may be craving more pumpkin flavored dog treats. If so, be sure to check out our other pumpkin dog treats in the vegetarian section of our site. You can make this dog treats recipe even healthier by substituting the canola oil for unsweetened applesauce.
You will save yourself some time if you have a stand mixer or even a hand mixer when making these homemade dog treats. However, a strong arm and a sturdy spoon will get the job done. Whatever tools you use, be sure to add the flour and cinnamon mixture slowly and incorporate before adding more.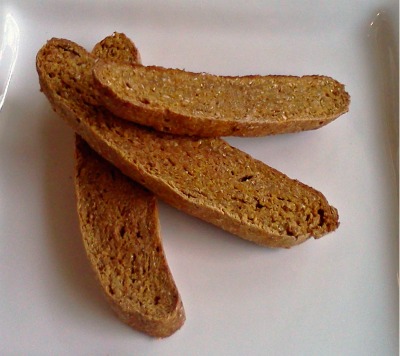 Want to see more pictures of making this Biscotti Dog Treats Recipe? Sign up to our Newsletter because we featured this recipe in a past issue and our subscribers get lots of extra pictures and access to new recipes first!
Ingredients:
1 cup of pure pumpkin (not pie filling)
1/4 cup honey
1/4 cup water
1/8 cup canola oil
1 egg, beaten
1 tsp vanilla
4 cups whole wheat flour
2 tsp ground cinnamon
Instructions:
Preheat oven to 350° F
In a large bowl, stir together the pumpkin, honey, water, oil, egg & vanilla.
In a separate bowl, whisk together the flour and cinnamon.
Using a mixer, slowly combine the dry ingredients into the wet.
Knead the dough with your hands in the bowl, until the dough forms a ball.
Divide the ball into two equal parts.
Lightly spray a baking sheet with non-stick spray.
Form each dough ball on the baking sheet into a slightly rounded rectangle about one inch thick.
Place loafs about 2 inches apart & bake for 35 minutes.
Leave on the baking sheept and cool on a wire rack for 30 minutes.
In the meantime, lower oven temperature to 300° F.
Place the loafs on a cutting board, and slice into 1/2 inch slices.
Place the slices cut side down on the baking sheet.
Bake for 20 minutes. Turn the slices, bake for an additional 20 minutes, or until hard and crunchy.
Let the slices cool completely, directly on the cooling rack.
Storing - This dog treats recipe will last for several weeks. Since the dog biscuits are baked twice, they will be very dry and crunchy. It's best to store them in the refrigerator for even longer freshness. You can freeze these dog treats for up to 6 months.
Yield - Depending on how thick you slice each biscotti, you should yield at least a dozen from each loaf. This recipe should give you two dozen pumpking biscotti.
Tips & Techniques
Egg Wash - We applied an egg wash before baking the loaves the first time. This step is completely unnecessary, as it does not change the taste or baking time. What it does change is the appearance. The egg wash takes away any trace of flour and helps give the finished biscotti a slight sheen. If you prefer a more rustic look to your dog treats, this step can be skipped.


Decorate - We chose to leave our biscotti pure and simple. But, we had a great idea for decorating your biscotti. Melt carob chips or yogurt chips and lightly dip the bottom of each biscotti for a decandent treat. Then, drizzle the same melted carob or yogurt over the top for an even more adorable goodie.


How Crunchy? - Your dog should be the judge of how hard and crunchy you make this treat. If you know your dog prefers softer snacks, you can shorten the second baking time to 10 minutes per side. Or, if your dog loves to chow down on hard biscuits, increase the second baking time to 30 minutes per side and cool in the oven once it is turned off.
You don't have to have an Italian Greyhound, or any other Italian breed of dog to make this dog treats recipe. Every dog, no matter what his pedigree will love the taste of these crunchy, lightly flavored pumpkin biscotti. Give these dog treats wrapped in a coffee mug. The mug is for the human, but the homemade dog treats will be adored by the four legged receipent.
What's Your Dog's Tastebud Feedback?
Have you made this recipe? What was your experience? Did your dog gobble it up or take a polite sniff and walk away?

Share your dog's Taste Bud Feedback with other dog treat bakers.

Share photos of your dog, or your dog eating this homemade dog treat, or how the finished dog treat looks! :)
Dog Treat Bakers Experiences:
Click below to see what other dog treat bakers are saying...