Banana Bread:
Gourmet Dog Treat Recipes
Our gourmet dog treat recipes now include a classic human treat, banana bread. The slices of soft bread are just as warm and comforting to your dog as the original is to you. This recipe is just like mom use to make, except ours has only natural sugars and is made just for a dogs taste buds. The sweetness comes from the ripe bananas, applesauce and a little honey.
This delicious banana bread recipe doesn't need nuts. Since nuts are high in fat, they can cause tummy problems for some dogs.
If you can't resist adding nuts, add a tablespoon or two of chopped dry roasted peanuts. Fold in the nuts to the dough before you pour the batter into the pan.
When you have some extra ripe bananas, go ahead and prepare them for a future recipe. Mash the bananas in a bowl, then measure out one cup sizes and freeze in a heavy duty freezer bag. Then you'll always be ready to make gourmet dog treat recipes.
If you are really short on time, freeze the bananas whole. The skin will turn black, but the inside banana will still be great. Thaw the bananas, mash and bake a classic banana bread homemade dog treat just for your four legged friend.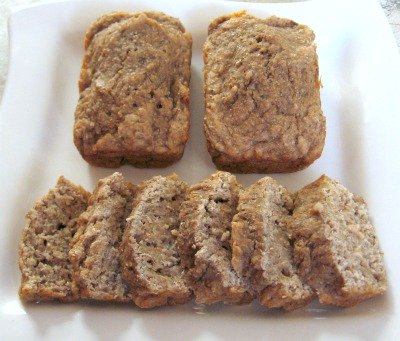 Ingredients:
2 1/2 cups whole wheat flour
1 tsp baking powder
1 tsp salt
1 tbsp cinnamon
1 cup mashed ripe bananas
1/8 cup honey
1 egg, lightly beaten
3 tbsp. applesauce, unsweetened
1/2 cup low fat milk
Instructions:
Preheat oven to 325° F
In a large bowl, whisk together the wheat flour, baking powder, salt and cinnamon.
In a separate bowl, mash the bananas.
Add the honey, egg, applesauce and milk to the mashed banana.
Make a well in the dry mixture and pour in the wet banana mixture.
Stir together until just combined.
Generously spray your loaf pan or muffin pan with non-stick cooking spray.
If using a full size loaf pan, bake for 50 to 55 minutes.
My 8 count mini loaf pan took 25 minutes to bake.
If you use a mini muffin pan with 12 cups, bake for 15 minutes.
Bake until a toothpick inserted comes out clean.
Let the banana bread cool in the pan for 5 minutes on a wire rack.
Release the bread from the pan and let cool completely on a wire rack before serving.
Storing - This and other fresh gourmet dog treat recipes will be best if kept in the refrigerator. Keep them wrapped or in a zip lock bag for 2 weeks. Store the dog treats in the freezer for up to 6 months.
Yield - Depending on how thick you slice each slice of banana bread, you should yield at least a dozen slices.
Tips & Techniques
Loaves or Muffins? - This dog treat recipe is very versatile. You can bake it in a traditional 9 x 5 loaf pan, or a muffin tin. We baked ours in a mini loaf pan, but you could also use a mini muffin pan. It all depends on your special dog. If he's a big guy or a big dog in a little body. Keep the serving sizes to fit your dog. Or, if all you have is a large loaf pan, you can cut the loaf in half lengthwise and then into slices.


Choice of Milk - We used cow's milk, but you can also choose to use soy, almond or rice milk. Most cow's milk alternatives will work very well in this gourmet dog treat recipe.


Hard Dog Treats - If your dog, or the dog you're baking for prefers hard dog treats, you can still make this homemade dog treat. Once the bread is cool enough to touch, cut into slices, or appropriate sizes for the dog. Then place the slices on a baking sheet and put back in the oven. If you want them really chewy and hard bake for an extra 5 minutes. Or you can place the treats back in the oven and turn off the oven and let them cool.
The next time you have a couple ripe bananas, don't throw them away, make gourmet dog treat recipes! The natural sweetness of bananas will make this a go-to dog treat recipe for years to come.
What's Your Dog's Tastebud Feedback?
Have you made this recipe? What was your experience? Did your dog gobble it up or take a polite sniff and walk away?

Share your dog's Taste Bud Feedback with other dog treat bakers.

Share photos of your dog, or your dog eating this homemade dog treat, or how the finished dog treat looks! :)
Dog Treat Bakers Experiences:
Click below to see what other dog treat bakers are saying...