Recipe for Dog Biscuits -
Gingerbread Bones
When the air turns crisp, and the fire crackles in the background, baking a recipe for dog biscuits can fill your home with warmth from the inside out.
You may have a treasured family recipe, or a new tradition of favorite recipes. Either way, don't forget your dog when it's time to bake delicious homemade treats.
Ginger has long been known to aid in the relief of nausea and diarrhea. But it's also known for the spicy and tempting flavor that it imparts to foods.
The gingerbread man has been around for hundreds of years. Now, your dog can join the fun with his very own dog treat recipe. Our version cuts out the sugar, and intensifies the ginger flavor for a tasty kick your dog is sure to enjoy.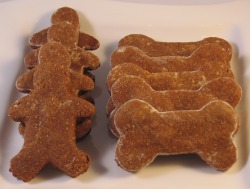 Ingredients:
3 cups whole wheat flour
2 tbsp ground ginger
1 tsp ground cinnamon
1/2 tsp ground cloves
1/2 cup molasses
1/2 cup water
1/4 cup canola oil
Instructions:
Preheat oven to 325° F
In a large bowl, whisk together the flour, ginger, cinnamon and cloves until combined.
In a small bowl, using a sturdy spoon, stir together the molasses, water and canola oil.
Pour the molasses mixture into the flour.
Using the same sturdy spoon, stir ingredients until thoroughly combined.
Roll out the dough to about 1/2 inch thickness.
Use your favorite dog cookie cutters to cut shapes.
Lightly spray a baking sheet with non-stick cooking spray.
Place your cut outs on the baking sheet.
Continue to roll and cut out shapes with the remaining dough.
Bake for 20 minutes.
Cool completely on a wire rack.
Storing - This recipe for dog biscuits will keep fresh for several weeks in the refrigerator. They also freeze really well. Keep them in the freezer for up to 6 months.
Yield - Using a 2 inch cookie cutter, you should yield approximately 28 dog biscuits.
Tips & Techniques
Decorate the Dog Cookie - If you choose to decorate the gingerbread cookies, you can use a tradtional royal icing recipe. However, since this type of icing is almost all sugar, limit the amount of icing per cookie, or the amount you give to your dog. Another alternative is to use a premade sugar free yogurt icing that will dry hard and be healthier for your dog to eat.


Gingerbread Dog House - Roll the dough and bake extra dry to make your very own gingerbread dog house. Due to the amount of royal icing that is needed to make a gingerbread house, please limit the amount your dog eats, or make the house for decoration and this gingerbread recipe for dog biscuits for eating.


All Year Long - Don't limit the use of this dog biscuit recipe to one time a year. Use this recipe all year long, with different seasonal dog cookie cutters.
Create a new tradtion with your family for the four legged family member in your home. Bake a batch of this delicious gingerbread recipe for dog biscuits. You may want to double the batch to make extras for gift giving to those extra sweet dogs of friends and family.
What's Your Dog's Tastebud Feedback?
Have you made this recipe? What was your experience? Did your dog gobble it up or take a polite sniff and walk away?

Share your dog's Taste Bud Feedback with other dog treat bakers.

Share photos of your dog, or your dog eating this homemade dog treat, or how the finished dog treat looks! :)
Dog Treat Bakers Experiences:
Click below to see what other dog treat bakers are saying...