Free Dog Treat Recipes -
Dog Candy Canes
Homemade dog treats made with this, or any of our free dog treat recipes, make the perfect gift. They will show your recipient that you really care. Not only will your human friend appreciate the gift, your four legged friend will flip over the chicken and peppermint flavor of this classic seasonal treat.
This is a fun dog treat recipe to make. Don't be intimidated by the number of steps needed to make this homemade dog treat. They are all easy steps, in fact you could make it even more enjoyable by having your kids or other family members help you roll out "worm" shapes for your dog.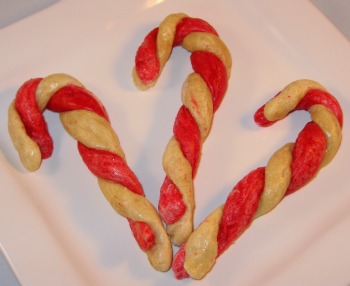 Ingredients:
3 cups all purpose flour
1/2 cup nonfat powdered milk
1/2 tsp baking powder
1 cup warm water
1 chicken bouillon cube
2 large eggs
2 tsp red food coloring (see tips)
1/2 tsp peppermint oil flavoring (optional)
1 large egg (for an egg wash)
Additional flour for kneading
Instructions:
Whisk together the flour, powdered milk and baking powder.
In a small bowl, pour the warm water over the chicken bouillon, stir until dissolved.
Whisk the eggs into the chicken water.
Form a well in the dry ingredients, pour in the wet ingredients.
Stir until thorougly combined.
Knead the dough for about two minutes.
Add more flour until the dough is no longer sticky.
Seperate the dough in half.
Form a well in one of the balls of dough.
Add the food coloring and peppermint flavoring.
Wearing food safe gloves, knead the coloring and flavoring throughout the dough.
Cool the dough in the refrigerator for 2 hours or in the freezer for 30 minutes.
Preheat the oven to 350° F
Divide each ball of dough into tablespoon sized balls.
Gently roll each ball into a "worm" shape, letting the dough rest when needed. Each strip should be about 5 inches long.
Spray a baking sheet with nonstick cooking spray.
Twist one plain strip with a red strip, and curl the end to shape a candy cane.
Place on the baking sheet.
Whisk the extra egg in a small bowl.
Using a pastry brush, thoroughly coat each candy cane with the egg wash.
Bake for 10 minutes.
Cool completely on a wire rack.
Storing - Our free dog treat recipes do not contain preservatives, so they will need to be refrigerated. These dog candy canes will keep fresh for two or more weeks in the refrigerator. They also freeze beautifully. Keep them in the freezer for up to 6 months.
Yield - If you roll out 5 inch strips of dough, and twist them together, you should yield at least 20 sugar free dog treats.
Tips & Techniques
Parchment Paper - Lay out a long piece of parchment or wax paper to use as your work surface. Otherwise each little ball, or "worm", will stick to the clean counter.


Patience - You must practice patience with this, and other, sugar free dog treat recipes that require shaping. The dough wants to contract to it original size. But, you can coax it into the shape you want gradually. Do each step to the entire batch of dough. This will allow the dough to rest in between being shaped. First, break apart the dough into tablespoon sized balls. Next, slightly roll each ball into a "worm" shape in your hands (it will be too thick and about 3 inches long). Then, roll each "worm" on the parchment paper to the desired thickness and at least 5 inches long. Gently pull on either end of the strip to help it lengthen. If the dough is not cooperating, let it rest, and start rolling another piece of dough.


Gloves - Wearing food safe gloves is essential when kneading in the red food coloring and peppermint. Otherwise the red dye will temporarily stain your hands red, I know from experience! :) If you need to remove red dye from your hands, make a paste with cornstarch and water. Rub your hands together, rinse and repeat if needed.


Red Coloring - I found red food coloring worked much better than red food paste or gel. However, you can also try natural red food coloring, like beet powder.


Peppermint - The flavoring is an optional step that helps give this sugar free dog treat recipe more flavor. Not to mention mint smells great baking, and it makes these homemade dog treats the real deal. However, if you do not have it on hand, or would rather not add it, the end dog treat will come out the same to your dog, simply scrumptious.


Twist - Maybe I'm not very coordinated, but I found it difficult to twist the two strips together while on the baking sheet. What worked best for me, was to hold a strip in each hand and then twist them together in the air. Gravity seems to help lengthen the "worms" and I got more twists per cookie. Then lay your twisted cookie on the prepared baking sheet and curve the top to create the "crook" part of the candy cane.


These candy cane dog treats make the perfect gift. Lay them on top of each other and tie with ribbon. Place a tag on the cookies to show that they're for your four legged recipient. Then package it with a coffee mug & hot chocolate for your human friend. Or, better yet, make them to show your dog just how much you care.
What's Your Dog's Tastebud Feedback?
Have you made this recipe? What was your experience? Did your dog gobble it up or take a polite sniff and walk away?

Share your dog's Taste Bud Feedback with other dog treat bakers.

Share photos of your dog, or your dog eating this homemade dog treat, or how the finished dog treat looks! :)
Dog Treat Bakers Experiences:
Click below to see what other dog treat bakers are saying...