Wheat Free Dog Treat Recipes:
Apple Carrot Nibbles
Once your dog tries these wheat free dog treat recipes, she'll say "Delicious!"
Yes, these wheat free dog treats are so easy to make, you'll wonder why you've waited so long to bake them for your wheat sensitive dog.
Ingredients:
1 cup rice flour
1 cup rolled oats
1 tsp cinnamon
1/2 cup applesauce, unsweetened
1/2 cup finely grated carrot (see note)
2 eggs
3 tbsp molasses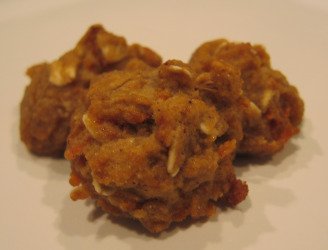 Instructions:
Preheat oven to 350 ° F
In a medium bowl, stir together the rice flour, rolled oats, and cinnamon.
In a small bowl, combine the applesauce, grated carrot, eggs, and molasses.
Make a well in the medium bowl and pour in the applesauce mixture.
Mix thoroughly until well combined.
Lightly spray a baking sheet with cooking spray or line with parchment paper.
Drop teaspoon sized clusters on the baking sheet.
Bake for 20 minutes, or until golden brown.
Storing & Yield: These wheat free dog treats will last in the refrigerator for up to 3 weeks. They will be good in the freezer for 4 months. The yield is approximately 70 teaspoon sized treats. You can make them larger for a larger breed dog, just be sure to bake them an additional 5-10 minutes.
Have you tried this recipe? Then add your own feedback, or read what others have to say.
Tips & Techniques
Carrots You can save time in this recipe by purchasing already grated carrot. But you will still need to coarsely chop the grated carrot so it will blend well with the applesauce.
What's Your Dog's Tastebud Feedback?
Have you made this recipe? What was your experience? Did your dog gobble it up or take a polite sniff and walk away?

Share your dog's Taste Bud Feedback with other dog treat bakers.

Share photos of your dog, or your dog eating this homemade dog treat, or how the finished dog treat looks! :)
Dog Treat Bakers Experiences:
Click below to see what other dog treat bakers are saying...