Heart Healthy Dog Treats
Kidney Bean Morsels
Kidney beans in healthy dog treats? It was new to me, but never wanting to miss an easy, healthy and quick ingredient with which to make tasty dog treats, I forged ahead. There was no need for hesitation, the beans work marvelously in these little baked kidney bean morsel dog treats.
Kidney beans make a wonderful addition to your dog treat pantry. Several nutrients make kidney beans an excellent choice in helping your dog maintain a healthy heart. They have been shown to be high in cholesterol lowering fiber, both soluble and insoluble. They also are a good source of folate, magnesium and protein. All of these things, plus other vitamins and minerals, all contribute to preventing heart disease.
Spelt flour is a fun alternative to the typical whole wheat flour. It is related to the wheat, and does contain gluten. So, our gluten free dogs will want to have their dog treat baker switch to 3/4 cup of brown rice flour and 1/4 cup of tapioca flour, or another gluten free flour of your choice.
So are the homemade dog treats that you make with spelt flour wheat free? Well, technically no. But don't let that stop you from trying a batch of these dog treats. Spelt flour is much better tolerated that whole wheat flour for many dogs who are wheat intolerant.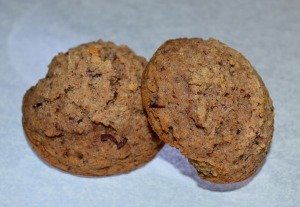 Ingredients:
1 - 15 oz can red kidney beans
3/4 cup chicken broth
2 eggs
2 Tablespoons unsweetened applesauce
1 cup spelt flour
1/2 cup ground flax
1 Tablespoon baking powder
1 Tablespoon cinnmaon
Recommended Equipment:
Instructions:
Preheat oven to 350° F
In a mesh strainer, empty the can of beans, rinse thoroughly and set aside to drain.
In a food processor, puree the beans, chicken broth, eggs and applesauce.
In a large bowl, whisk together the flour, flax, baking powder and cinnamon.
Pour the bean mixture into the dry ingredients.
Lightly spray a baking sheet with non-stick cooking spray.
Bake for 15 minutes.
Turn off oven, let the treats cool in the oven for about 2 hours.
Storing - These healthy dog treats should be kept in the refrigerator for about 2 weeks. Store them even longer in the freezer, up to 6 months. Be sure to read our tips on storing homemade dog treats for more information.
Yield - This recipe will make 4 dozen mini morsels, if you use a teaspoon sized cookie scooper.
Tips & Techniques
Light Red or Dark Red Beans? - There is little nutritional difference between the light and dark red kidney beans. Choose the ones that are readily available at your local store. Or, mix up these dog treats with white kidney beans, also called Cannellini beans.


Spelt Flour - If you can not find, or do not want to use spelt flour, you can substitute it on a 1 to 1 ratio with whole wheat flour.
Loving your dog is easy. So is making these heart healthy dog treats. Love your dogs heart and keep his heart as healthy as possible with good nutrition, daily exercise and delicious healthy homemade dog treat recipes.
What's Your Dog's Tastebud Feedback?
Have you made this recipe? What was your experience? Did your dog gobble it up or take a polite sniff and walk away?

Share your dog's Taste Bud Feedback with other dog treat bakers.

Share photos of your dog, or your dog eating this homemade dog treat, or how the finished dog treat looks! :)
Dog Treat Bakers Experiences:
Click below to see what other dog treat bakers are saying...