Gluten Free Dog Treats
Tropical Pina Colada Cookies
Making wheat and gluten free dog treats could be intimidating at first glance. This dog treat recipe takes the "scary" out of the equation. Bake up a batch of these tropical morsels and you'll see that using new flours is a piece of cake, or a piece of sweet dog cookie.
Brown rice flour can be found in most major grocery stores for a reasonable price. Tapioca flour can usually be found in a major health food store. They can also be purchased online.
Amazon.com is a great source for unusual food products. Find brown rice flour and tapioca flour, plus lots of other healthy wheat and gluten free flours online.
Pineapple is high in Vitamin C, so don't hold back. Make these homemade dog treats for all the dogs in your extended fur family.
Coconut oil can help your dogs skin and coat. For those sweet dogs that have the itch-ies or flaky skin, coconut oil may be the answer. As always, be sure to ask your Veterinarian before adding it to your dogs daily diet.
Slowly introducing any new food is a good idea. That's why these gluten free dog treats are perfect. You can make sure that your dog will enjoy coconut oil before adding it to their main diet. You may even find that it has many health benefits for your two legged family members, too.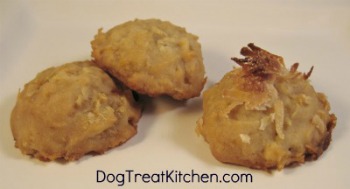 Ingredients:
1 cup brown rice flour
1 cup tapioca flour
1 egg
1 cup crushed pineapple in juice, drained and liquid set aside
1/4 cup coconut oil
1/4 cup honey
shredded coconut (optional)
Instructions:
Preheat oven to 350° F
In a large bowl, whisk together the brown rice flour and tapioca flour.
In a separate bowl, beat the egg and stir in the pineapple, coconut oil and honey.
Make a well in the dry mixture and pour in the pineapple mixture.
Stir together until combined.
If your dough is very dry, use the pineapple juice you drained earlier to help the batter come together.
Lightly spray a baking sheet with non-stick cooking spray.
Using a teaspoon sized scooper, scoop out little round balls.
Sprinkle a small amount of coconut on top of each cookie. Press down gently.
Bake for 10 minutes.
Turn off the oven and leave the treats in the oven to cool completely before serving.
Storing - These gluten free dog treats should be kept in the refrigerator. In a sealed container they will stay fresh for a week. You can store them in the freezer for up to 3 months.
Yield - Using a teaspoon sized cookie scooper, you should get about 2 1/2 dozen dog cookies to enjoy and share.
Tips & Techniques
Fresh Pineapple - You can use fresh pineapple for this dog treat recipe if you'd like. We chose crushed canned pineapple in juice for it's ease of preparation.


Brown Rice & Tapioca Flour - Tapioca flour must be mixed with other flours for best results in baking. Brown rice flour is just one of the many wheat and gluten free flours that you could choose to mix with the tapioca flour. Experiment with different mixes, or with what you have on hand for a unique homemade dog treat.


Make Your Own Brown Rice Flour - If you find that you like baking with brown rice flour, you can make your own to cut down on costs. You will need a high quality brown rice, and a mixer that is capable of grinding grains. The "go to" machine for many is the Vitamix. It has so many uses and now you can make healthy homemade flours for you and your dog to enjoy.


Whole Wheat Flour - If your dog is not sensitive to wheat you can still make this dog treat recipe. Substitute the tapioca and brown rice flour for whole wheat flour.
Gluten free dog treats can now be make at home for a fraction of the cost of store bought ones. Test out these flours, and others for your homemade dog treats. Making healthy and safe dog treats for our companions with special needs keeps getting easier and easier.
What's Your Dog's Tastebud Feedback?
Have you made this recipe? What was your experience? Did your dog gobble it up or take a polite sniff and walk away?

Share your dog's Taste Bud Feedback with other dog treat bakers.

Share photos of your dog, or your dog eating this homemade dog treat, or how the finished dog treat looks! :)
Dog Treat Bakers Experiences:
Click below to see what other dog treat bakers are saying...