Gluten Free Dog Biscuits
Decorated like Candy Canes
Gluten free dog biscuits are just as easy to make as the typical wheat variety. You may need a couple different flours to add to your pantry, but the process is familiar. We've decorated these seasonal homemade dog biscuits like candy canes and made a show stopping candy cane dog cookie sandwich, too.
Being raised in a warm part of the country, whenever you saw candy canes in the stores, it signaled the beginning of winter. Now when I see candy canes, I think of dog treats! Making these special gluten free dog biscuits is not only fun, but they make wonderful gifts for all those deserving pups.
You may remember our candy cane dog treat recipe from a winters past. They are such a fun treat, but we wanted to make another dog friendly version of a traditional human treat.
You may be able to find themed candy cane dog cookie cutters at your local craft stores during the holiday months. If you can't find just what you want, then going online for candy cane cookie cutters is a great option to find exactly what will make your homemade dog biscuits stand out.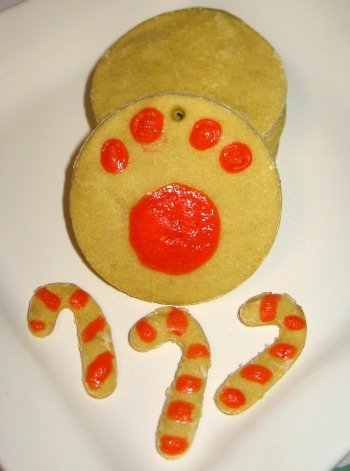 Ingredients:
1 3/4 cup garbanzo bean flour
1 1/8 cup brown rice flour
1/2 cup potato starch
1/4 cup nonfat dry milk
1/4 cup chicken broth
1/4 cup water
1/4 cup extra virgin olive oil
3 tbsp liquid egg whites
Additional Gluten Free flour for Rolling
Instructions:
In a large bowl, whisk together the garbanzo bean flour, brown rice flour, potato starch and dry milk.
In a separate medium bowl, stir together the broth, water, oil and egg whites.
Make a well in the dry mixture and pour in the wet ingredients.
With a sturdy spoon, stir together until combined and smooth.
Add flour and knead for 3-5 minutes, or until no longer overly sticky.
Wrap dough in plastic wrap and let rest in refrigerator for 1 hour, up to 24 hours.
Remove dough from refrigerator and preheat oven to 350° F
Lay down one piece of parchment paper and lightly dust with flour.
Unwrap your dough, place on the parchment and lightly dust your dough with flour.
Place another piece of parchment on top of your dough.
Roll out to 1/2 inch thickness.
Cut your dough with your cookie cutters.
Spray a baking sheet with non-stick cooking spray.
Place your cut outs on the baking sheet.
Continue to roll and cut out dog biscuits until there's no more dough.
Bake for 10 minutes.
Place baked cookies on a cooling rack to cool completely.
Storing - These gluten free dog biscuits need to be kept in the refrigerator for the freshest treat for your dog. Freeze the undecorated treats for no longer than 6 months.
Yield - Using a 2 inch round cookie cutter and a 1 inch cookie cutter you will yield 16 sandwich cookies and one dozen small dog biscuit candy canes.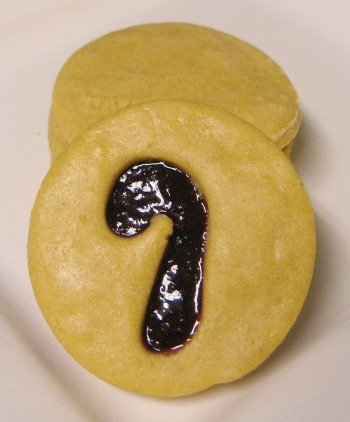 Tips & Techniques
Wheat Free Flours - We used garbanzo bean and brown rice flour for these gluten free dog biscuits. You can substitute these two flours with other gluten, wheat or grain free flours if that's what your dog needs. If your dog is not sensitive to wheat, you can replace the flours with whole wheat flour and omit the potato starch. However, if your dog, or the intended recipient needs wheat free dog treats, be sure to use a wheat free flour when kneading, rolling and cutting out your dog treat dough.


Liquid Egg Whites - We used liquid egg whites in this dog treat recipe, but you can use a whole egg instead of the 3 tablespoons of egg whites, if desired.


Edible Gift Tag - If you'll notice the dog treat with the red paw print has a hole at the top of the cookie. This is to make it into a gift tag for a present. Before the treat is baked, use a straw to punch out a small hole at the top of the dog biscuit. Use a toothpick to write the dogs name in egg paint before the biscuit is baked. Once baked and cooled, it can be threaded with ribbon or twine and attached to a dog gift.


Decorating the Dog Biscuits - We used our egg paint dog treat icing recipe for the red icing on these dog biscuits. We used a small paint brush and decorated them before the biscuits were baked. The red in the candy cane sandwiches is a berry filling. We like this 100% fruit spread for a filling instead of typical jam that can contain sugars.
Winter is the time of year for baking. Make these gluten free dog biscuits for your dog and as gifts for the dog lovers in your life.
What's Your Dog's Tastebud Feedback?
Have you made this recipe? What was your experience? Did your dog gobble it up or take a polite sniff and walk away?

Share your dog's Taste Bud Feedback with other dog treat bakers.

Share photos of your dog, or your dog eating this homemade dog treat, or how the finished dog treat looks! :)