Double Carob Dog Cookie
Recipe with Peanut Butter
This carob dog cookie recipe is too adorable to pass by. If your dog loves peanut butter, and most do, she'll lick her chops when you serve this one with double carob.
Why double carob? This dog cookie recipe originally just had carob chips. But I wanted your dog to be able to really indulge in carob. So we've added roasted carob powder. The chips give nice pockets of sweetness, while the powder makes the overall cookie look dark like chocolate.
Of course dogs are not to have chocolate, since it's on the list of foods poisonous to dogs. But you both can enjoy the natural sweetness of the carob in this homemade dog cookie recipe.
You can feel good letting your dog indulge in these carob peanut butter dog treats since carob has many health benefits. Carob is low in fat and sodium, and high in fiber, potassium, and calcium. Not only that, it can improve digestion.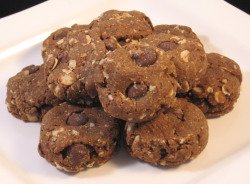 Ingredients:
3/4 cup rolled oats
2 cups whole wheat flour
4 tsp carob powder (see tip)
1 cup natural peanut butter
1 cup milk, low or fat free
1/4 cup carob chips (see tip)
Instructions:
Preheat oven to 350° F
In a large bowl, whisk together the oats, flour, and carob powder.
In a microwave safe bowl, warm the peanut butter for approximately 30 seconds.
In a small bowl, whisk the warmed peanut butter and milk together with a fork until thoroughly combined.
Make a well in the dry ingredients and pour in the peanut butter mixture.
With a wooden spoon, stir until combined. The dough will be very thick.
Fold in the carob chips.
Place a sheet of parchment paper on a baking sheet.
Using a 1 inch cookie scooper, pack the fudge-like dog cookie dough into the scooper with your hands.
Release the ball and once on the baking sheet, flatten to a cookie shape.
Bake for 15 minutes. Cool completely on a wire rack. Or, leave in the oven, once turned off, to cool and harden for 2 hours.
Storing - Keep these carob dog treats in the refrigerator for up to 2 weeks. Freeze and use before the end of 6 months. For more tips on how to store homemade dog treats be sure to read our list of reminders and techniques.
Yield - This carob recipe for gourmet dog cookies will make a nice batch of approximately 42 cookies, or 3 1/2 dozen, using a 1 inch cookie scooper.
Tips & Techniques
Carob Powder - You can use light, medium, or dark roasted carob powder for this recipe. The difference is in taste, and most likely your dog will not mind what variety you choose. You can find carob powder in most health food stores. If you choose to omit the carob powder your dog cookie will be light in color, instead of a dark chocolate look.


Carob Chips - This is the one time I will recommend you not use the natural and unsweetened option. The first reason is because it is an overall small portion of this dog cookie recipe at only 1/4 cup. The second reason is that the natural carob chips I've used in recipes do not withstand the heat of the oven to bake the cookies. The chip will melt right out of the cookie and make a mess on your baking sheet. Not to mention the fact that your dog cookies no longer have carob chips in them once they've melted out. That's why I recommend finding carob chips that contain some sugars, oils, whey, and soy lecithin. These chips keep their shape while baking and stay inside the cookie, where they belong. You can find carob chips in most major health food stores and online.
The next time you are looking for special recipes for dog cookies, be sure to bake several batches of these good looking, good tasting, and good for you, double carob or "Mock-Choc" dog cookie recipe.
What's Your Dog's Tastebud Feedback?
Have you made this recipe? What was your experience? Did your dog gobble it up or take a polite sniff and walk away?

Share your dog's Taste Bud Feedback with other dog treat bakers.

Share photos of your dog, or your dog eating this homemade dog treat, or how the finished dog treat looks! :)
Dog Treat Bakers Experiences:
Click below to see what other dog treat bakers are saying...