Sweet Potato Dog Chew -
Vegetarian Alternative to Rawhide
You'll love making this sweet potato dog chew recipe for your dog because sweet potatoes are loaded with beneficial nutrients like Vitamin E, Vitamin B6, Potassium, and Iron.
Since it's one of the sweetest of all the vegetables, just like the name implies, you'll have no trouble getting your dog to try this dog treat recipe.
Making your own all natural dog treat is an excellent alternative to rawhide.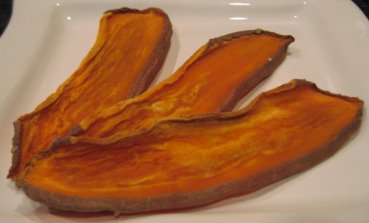 Ingredients:
1 Large Sweet Potato, washed & dried
Optional Equipment:
Instructions:
Preheat oven to 250° F
Line a baking sheet with parchment paper.
Cut off one side of the sweet potato lengthwise, as close to the edge as possible. Cutting the side of the potato first allows you to then turn the potato onto this flat surface that you have just created. Having a stable area to rest the potato will make it easier to cut the potato into slices. Don't discard that first piece, it comes out just as yummy as the rest!
Cut the rest of the potato into 1/3" slices, no smaller than 1/4".
Place them on the prepared baking sheet.
Bake for 3 hours, turning half way through.
Cool completely on a wire rack.
Storing - Although these treats are dried, you will want to keep them in the refrigerator for up to 3 weeks. You can freeze them for up to 4 months.
Tips & Techniques
Choosing a Sweet Potato - You want to find a potato that is as uniform in shape as possible. This will aid in the drying process as the pieces will be similar in shape and will cook through at the same time. Also, try to find one that has fewer blemishes or bruises. While you're picking one to make a sweet potato dog chew, go ahead and pick some for the family, too!


Yam or Sweet Potato - You can use sweet potatoes, like we did, or yams. If you are in the USA, most likely you will find sweet potatoes in your local market. Either way, this root vegetable makes a tasty dog treat.


Knife Skills - If you are a pro with a knife, you may not need to cut off one side to stable your potato. If that's the case, then by all means skip that step. However, for those of us who are more handy with a pastry bag, than a knife, having a stable surface makes all the difference.


Cutting Even Pieces - One way to ensure your pieces are as even as possible, is to first rest your knife where you would like to cut. Then press down gently across the entire length of the knife. Make a slight cut, then press firmly on your knife from one end to the other, and cut all the way through.


Degree of Chewiness - Baking for 3 hours results in a soft, but chewy dog treat. If your dog prefers more of a crunch, then bake for an additional 20-30 minutes. When you take the sweet potatoes out of the oven, they may at first appear to be too soft. Let them cool completely on a wire rack before you decide whether or not to bake them longer. This is because they will continue to dry or harden while cooling.


Finished Color of Treat - Sweet potatoes can vary in flesh color when raw. So, when baked they can be lighter or darker than the chews in the above photo. The texture is what you need to be most concerned with. Bake longer or shorter for the texture that your dog prefers.


Parchment Paper - Parchment paper helps to keep the sweet potatoes from sticking to the pan during the drying process. If you do not have parchment paper, you can use baking safe aluminum foil. Do not use wax paper as it is not safe for oven use.


Parental Supervision - This is not a dog treat recipe that we recommend for the kids. Please use caution while using a sharp knife, whether you are young or young at heart.
Whether your dog has a need to chew or not, she'll love this all natural sweet potato dog chew. In fact, it's such an easy dog treat recipe, I bet you'll be making several batches at a time for your dog and all of his all natural dog treat loving friends!
What's Your Dog's Tastebud Feedback?
Have you made this recipe? What was your experience? Did your dog gobble it up or take a polite sniff and walk away?

Share your dog's Taste Bud Feedback with other dog treat bakers.

Share photos of your dog, or your dog eating this homemade dog treat, or how the finished dog treat looks! :)
Dog Treat Bakers Experiences:
Click below to see what other dog treat bakers are saying...