Be Cool and Stay Cool
with Dog Ice Cream
I scream, you scream, we all scream for......Dog Ice Cream!
Well, maybe you don't scream for doggie ice cream, but your dog definitely does! Making your own ice cream for dogs is another great way to help keep your dog cool in the long hot summer months.
Mmm, My Own Ice Cream!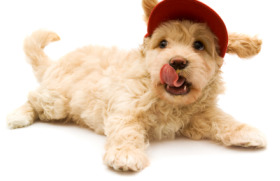 Of course, you should always provide shade and plenty of fresh cool water. But the same fresh water can get dull after awhile. An ice cube or two is a nice treat, but why not really surprise your dog with these two gourmet dog ice cream recipes.
These are great for your next dog party, too. Whip up a batch and freeze them in coordinating mini cupcake liners for a festive look.
Does your dog prefer meaty treats to sweet ones? Then you'll want to make our savory recipes for ice cream for dogs.
For more ideas review the tips for homemade frozen dog treats, too.
Carob Chip
Ingredients:
2 6oz containers of plain yogurt
1 Tbsp. Honey
1/2 cup of carob chips
Instructions:
Mix all ingredients in a medium bowl until well combined.
Spoon into an ice cube tray or silicon cupcake liners.
Freeze for 2 hours or until solid.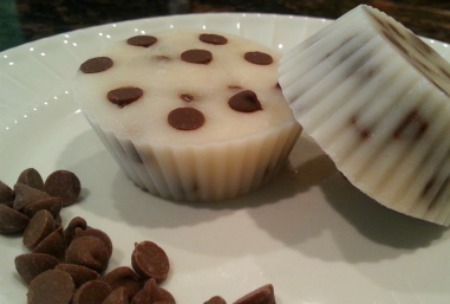 If you want a really special ice cream treat that will wow your guests at your next dog party, check out this tempting recipe:
Peanut Butter & Carob Swirl
Ingredients:
32 oz plain yogurt
1 cup natural peanut butter
1/2 cup carob chips
Instructions:
Divide yogurt evenly into each cup of a 24 mini muffin cup pan.
In a microwavable bowl, combine the peanut butter and carob chips.
Microwave the peanut butter and carob chips for 30 seconds, or until the chips have melted.
Place a spoonful of the peanut butter mixture on top of each muffin cup.
Using a toothpick, gently stir or swirl the peanut butter with the yogurt using a "figure 8" movement.
Freeze for 2 hours or until solid.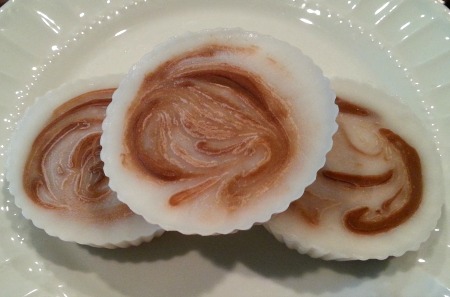 Homemade cold dog treats will last about 2 months in the freezer. For more information regarding how to store homemade dog treats check out our tips and techniques.
No longer will you have to give into those puppy dog eyes waiting and wanting a lick from your ice cream cone. Now you can make some ice cream just for her!
What's Your Dog's Tastebud Feedback?
Have you made this recipe? What was your experience? Did your dog gobble it up or take a polite sniff and walk away?

Share your dog's Taste Bud Feedback with other dog treat bakers.

Share photos of your dog, or your dog eating this homemade dog treat, or how the finished dog treat looks! :)
Dog Treat Bakers Experiences:
Click below to see what other dog treat bakers are saying...

Where can I find carob chips? Where can you find carob chips? I want to make my little doggy some ice cream.

Chef's Answer ~ Besides purchasing them online, most health food stores ...