Dog Ice Cream Recipe -
Pumpkin Pops for Pups
This dog ice cream recipe for pumpkin pops is going to be a new favorite in the fall, and all season long.
You may only think of using pumpkin in the fall, because that's when they're in season. But, you can usually find canned pumpkin puree in the baking aisle of most major grocery stores, all year long.
Since early fall still has some warm days in many parts of the world, your little pup is going to love these pumpkin pops on a warm fall afternoon.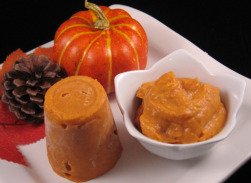 Ingredients:
1 (1 oz) Natural Instant Vanilla Pudding Mix (see note below)
1 tsp pumpkin pie spice
1 cup milk, low or fat free
1 (15 oz) can pumpkin puree (not pumpkin pie filling)
Instructions:
Whisk the vanilla pudding mix, pumpkin pie spice, and milk together until dissolved. Approximately 2 minutes.
Fold, or gently stir in the pumpkin puree.
Scoop pumpkin pudding into small paper cups, small plastic cups, or a plastic Popsicle mold.
Place in freezer, and let freeze completely, about 3 hours.
Take out desired serving size and let sit on counter for 5 minutes. Then release from the mold and serve.
Storing - If frozen, this dog ice cream recipe will last for 3 months. If kept in the refrigerator, as a pudding, it will keep fresh for one week.
Tips & Techniques
Natural Instant Pudding Mix - To eliminate the artificial ingredients in this dog treat, use a natural instant pudding mix instead of the traditional kind you find at most major grocery stores.


Dog Treat Toy Filler - This dog ice cream makes a wonderful alternative to stuffing your dogs favorite treat toy. Mix in other dry treats for a satisfying few hours of chew time.


Not Just for the Dog - This is one dog treat recipe that is suited for both dogs and their human family members. You can freeze the pudding into pops, or enjoy the pudding, once chilled and set, with a little dollop of whip cream.


Cold or Frozen - You can serve this dog ice cream frozen, like suggested, or you can serve it straight from the fridge as a pudding. Just remember to keep the serving sizes small.
We found this dog ice cream recipe so versatile. Whether you serve it frozen or cold, your dog will most certainly wait patiently by the refrigerator for her next helping of pumpkin dog treats.
What's Your Dog's Tastebud Feedback?
Have you made this recipe? What was your experience? Did your dog gobble it up or take a polite sniff and walk away?

Share your dog's Taste Bud Feedback with other dog treat bakers.

Share photos of your dog, or your dog eating this homemade dog treat, or how the finished dog treat looks! :)
Dog Treat Bakers Experiences:
Click below to see what other dog treat bakers are saying...

Recipe Reviews for Pumpkin Pops
Read all the reviews for this recipe, and then try it out for yourself. Don't forget to come back here and let us know what your dog thought or ask …