Homemade Dog Biscuits for
Dog Weight Loss
Dog weight loss can be a sensitive subject, especially when it comes to cutting out high calorie (but often very yummy) dog treats.
Low Fat Carrot Shaped Treats
for Fat Dogs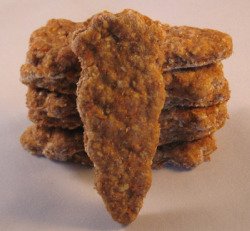 But your pudgy friend need not worry with this low fat carrot and banana dog treat recipe.
As with all treats, keep them in moderation, drink lots of fresh water, and get plenty of exercise. (Maybe chasing rabbits away from these carrot packed dog treats!) :)
Ingredients:
1 medium ripe banana
1 cup shredded carrots (see note below)
1/4 cup applesauce, unsweetened
1/8 cup water (you may need to add an additional 1/8 cup water)
1 1/2 cups whole wheat flour
1 cup rolled oats
Additional flour for Rolling
Instructions:
Preheat oven to 350° F
Mash the ripe banana in a small bowl.
Grate the carrots, and mix with the banana.
Then pour in the applesauce and water.
In a medium bowl, whisk together the flour and oats.
Make a well in the center of the dry ingredients and pour in the carrot mixture.
Stir until thoroughly combined.
Knead the dough in the bowl with your hands.
Fold out onto a floured surface and continue to knead until a dough has formed.
Roll out to 1/2 inch thickness.
Cut out into 3 inch pieces (I used a carrot shaped cookie cutter).
Lightly spray a baking sheet with non-stick spray.
Place the cut-outs on the baking sheet and bake for 25 minutes.
Let them cool completely on a wire rack.
Storing - These treats will be fresh in the refrigerator for 3 weeks. Keep them in the freezer for up to 6 months.
Yield - Using a 3 inch cookie cutter, you'll get 24 biscuits.
Tips & Techniques
Shredded Carrots - You can purchase packaged, pre-shredded carrots for these homemade dog treats. However, you will still need to run your knife through them to make them smaller, similar in size to the picture above. The benefit to shredding carrots yourself is that you can leave the skin on the carrots and get a little more nutrients out of the carrots. But for those pressed for time, pre-shredded works well, too.


Crunchy - Leave them in the oven overnight, after it's turned off, and you'll bake up a sweet and crisp homemade dog treat.
If your sweet friend is going through a dog weight loss program, this dog treat recipe will keep him happy and not feeling left out when it comes to the dog treat jar.
What's Your Dog's Tastebud Feedback?
Have you made this recipe? What was your experience? Did your dog gobble it up or take a polite sniff and walk away?

Share your dog's Taste Bud Feedback with other dog treat bakers.

Share photos of your dog, or your dog eating this homemade dog treat, or how the finished dog treat looks! :)
Dog Treat Bakers Experiences:
Click below to see what other dog treat bakers are saying...