Winter Squash
Dog Muffin Recipe
Making this dog muffin recipe is a wonderful way to take advantage of the seasons crop of winter squash. We used butternut squash for this recipe, but you can easily substitute acorn or spaghetti squash, to name just a few of the many available and healthy winter squashes.
If your dog takes a daily pill of medicine or a supplement, you'll love the soft texture of this dog muffin recipe. After they've baked and cooled, push the pill right in the middle of the muffin to make pill time more enjoyable.
Winter squash is low in calories and a good source of fiber, which makes it a good pick for those dogs watching their wasteline. All dogs will appreciate the vitamin A, vitamin C, potassium, folate, omega 3 fatty acids and vitamins B1, B3, B5 & B6 in the squashes.
To make this dog muffin recipe extra special, decorate with cream cheese dog treat frosting and watch your dog drool in anticipation.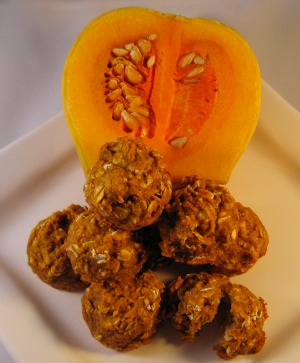 Ingredients:
1 cup rolled oats
1 cup whole wheat flour
1 tsp ground cinnamon
1 tsp ground ginger
1 1/2 cups winter squash, peeled and cubed
1/8 cup water
1 egg
1 tbsp corn oil
1/2 cup milk
Instructions:
Preheat the oven to 375° F
Whisk together the oats, flour, cinnamon and ginger.
Peel the squash and cut into 1 inch cubes.
Place squash in a microwave safe bowl and add 1/8 cup of water.
Microwave on high at one minute intervals until tender. After each minute, stir and test the softness of the squash.
Once the squash is tender, drain the excess liquid.
Place the squash, egg, oil and milk into a blender.
Blend into a smooth puree, stirring when needed to keep the mixture moving.
Make a well in the dry ingredients and pour in the squash mixture.
Stir together until combined.
Spray a mini muffin pan with non stick cooking spray with flour.
Using a tablespoon sized cookie scooper, scoop generous amounts into each muffin cup.
Bake for 15 minutes.
Turn off the oven and let the muffins cool.
Storing - This dog muffin recipe will keep in the fridge for about two weeks. You can freeze them for later enjoyment for up to 6 months. To decorate, let them thaw, or come to room temperature first.
Yield - Using a mini muffin pan, you'll yield 24 little muffins.
Tips & Techniques
Winter Squash - Don't forget to scoop out any seeds from your squash. You can dry them for a healthy treat for your two legged family members. If you can't find winter squash, you can substitute it for pumpkin.


Be Cool - Leaving the dog muffins in the oven after it's been turned off will help them to continue to bake and firm up. If your dog can't wait that long, you can cool them on a wire rack for 5 minutes in the pan, and then remove from the pan and cool completely on a wire rack.


Milk Sensitive Dogs - For a dog that is sensitive to milk, you can use soy, almond or any lactose free milk.


Spices - We prefer the flavor and health benefits of cinnamon and ginger for this dog muffin recipe. But, you can add or substitute ground cloves if you have it on hand. Do not use ground nutmeg or pumpkin pie spice that contains nutmeg as this is not a safe dog treat ingredient.


Large Dogs - If you have a large dog, you can bake this dog muffin recipe in a regular muffin tin with 12 muffin cups. We like the mini muffin tin because the size is perfect for most dogs, and the smaller the dog treat, the more times you can spoil your dog with a healthy homemade dog treat.


This dog muffin recipe makes a dense and delicious winter treat. Warm for 5 seconds in the microwave for a slightly warm and aromatic homemade dog treat. These muffins won't rise very much in the muffin tin, so for variety you could place rounded scoops on a baking sheet, flatten and turn them into hearty squash dog cookies.
What's Your Dog's Tastebud Feedback?
Have you made this recipe? What was your experience? Did your dog gobble it up or take a polite sniff and walk away?

Share your dog's Taste Bud Feedback with other dog treat bakers.

Share photos of your dog, or your dog eating this homemade dog treat, or how the finished dog treat looks! :)
Dog Treat Bakers Experiences:
Click below to see what other dog treat bakers are saying...

Acorn squash for dogs?
Is this a good power food for dogs maybe with liver or bladder problems? Chef's Comments ~ That is a wonderful question. I would highly recommend …