Sweet Potato Dog Treats -
Great for Diabetic Dog Treats
Why make sweet potato dog treats?
Because sweet potatoes contain beneficial nutrients such as complex carbohydrates, dietary fiber, beta carotene, vitamin C, and Vitamin B6, to name just a few.
They also help stabilize blood sugar, which makes them a nice choice for diabetic dog treats.
But you don't have to take my word for it. Once you make these homemade dog treats with sweet potato, your dog will let you know just how good they are!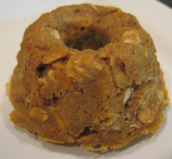 Ingredients:
1 large sweet potato
3 eggs
3/4 cup applesauce, unsweetened
1 tsp cinnamon
1/2 tsp ginger
2 cups whole wheat flour
1 cup rolled oats
Instructions:
Preheat oven to 300° F
Spray a 9 muffin cup pan, or a mini muffin pan with baking spray.
Wash the sweet potato and poke holes all over with a fork.
Microwave the sweet potato until soft. (Depending upon your microwave, this may take 5 minutes or more. Start with less time, and gradually add more to make the potato soft.)
Once the sweet potato is cool to the touch, peel and place in a medium bowl.
Combine the peeled sweet potato, eggs, and applesauce. See note below.
In a large bowl whisk together the cinnamon, ginger, flour, and oats.
Make a well in the center of the dry ingredients and scoop the potato mixture into the center.
Stir until thoroughly combined.
Spoon the mixture into the muffin pan.
Bake for 30 minutes with the 9 cup pan, or 20 minutes with the mini muffin pan.
Cool on a wire rack for 5 minutes. Remove the muffins from the pan and let them cool completely on a wire rack.
Storing & Yield: The sweet potato dog treats will last in the refrigerator for one week. They can be stored in the freezer for up to 3 months. The yield will depend on the muffin pan size you choose.
Tips & Techniques
Potato Masher - I found that using a potato masher worked wonderfully to combine the wet ingredients. Poke the egg yolk a couple times with a fork and they will break apart much easier and combine quicker with the rest of the ingredients.


Baking the Potato - If you prefer you can bake the potato in the oven for your sweet potato dog treats. This may be more convenient if you are already preparing sweet potatoes for your family.


Bundt Pan - Some of you may notice that the picture for the sweet potato dog treat I made above is a mini bunt cake instead of a muffin. You can use your regular or mini muffin pan and these vegetarian dog treats will taste and turn out just as perfect.
Sweet potato dog treats are not only beneficial for your dog, they are just plain yummy! So whether your dog needs diabetic dog treats or not, make up a batch of these fall time favorite dog treat recipes and watch your dog's tail start wagging.
Does your dog prefer a chewier treat, but you still want him to have the benefits of sweet potato? Then make up a batch of the Sweet Potato Dog Chews recipe, which is also a great alternative to rawhide.
What's Your Dog's Tastebud Feedback?
Have you made this recipe? What was your experience? Did your dog gobble it up or take a polite sniff and walk away?

Share your dog's Taste Bud Feedback with other dog treat bakers.

Share photos of your dog, or your dog eating this homemade dog treat, or how the finished dog treat looks! :)