Pumpkin Dog Treats
with Peanut Butter
Pumpkin dog treats with peanut butter use canned pureed pumpkin, so you can enjoy these dog biscuits anytime of year.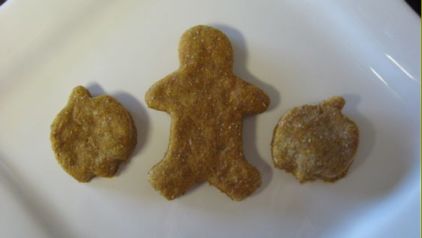 Canned pumpkin is readily available in the fall. If you plan on making these treats at other times during the year, stock up on a few cans and you'll always be ready to bake a batch. Or, if you have ample freezer space, buy a few sweet pumpkins in the fall, and after you puree them, freeze them for future dog treat recipes.
Ingredients:
2 1/2 cups whole wheat flour
2 eggs
1 1/4 cup canned pumpkin (only use pure pumpkin puree, not the pie filling)
1/4 cup peanut butter (smooth or crunchy, I used all natural smooth)
1/2 tsp. ground cinnamon
water (I used 1/4 cup of water, you may need more or less)
Additional flour for rolling
Instructions:
Preheat oven to 350° F
Place all ingredients in a bowl.

Stir until thoroughly combined.

Add water as needed to combine the ingredients.
Roll out dough to 1/4" thickness and cut with dog cookie cutters.

Place cookies on a greased cookie sheet.

Bake for 20 minutes (if you want a really hard cookie, bake for 5-10 minutes longer).
Leave in the oven to cool overnight. Or, cool completely on a wire rack before serving.
Yield: The yield for these pumpkin dog treats with peanut butter will be different depending on what size cookie cutter you use. I was able to make 12 2" cookies, 15 1" cookies and using a 1" cookie dropper, I made another 20 rounded cookies with the remaining dough. I only baked the drop cookies for 10 minutes. They came out like a crispy muffin, like the blueberry dog treat recipe. I baked them soft because I like to break apart the cookie and serve a little at a time to my intended taste tester. You could easily bake them longer. But I would test how done they are after 10 minutes and then determine how much harder you'd like them.
Storage: These dog biscuits are more on the delicate side. Also, since they are not baked hard, they will not last as long. I would recommend less than one week in a dog treat jar, 3 weeks in the refrigerator and 2 months in the freezer.
What's Your Dog's Tastebud Feedback?
Have you made this recipe? What was your experience? Did your dog gobble it up or take a polite sniff and walk away?

Share your dog's Taste Bud Feedback with other dog treat bakers.

Share photos of your dog, or your dog eating this homemade dog treat, or how the finished dog treat looks! :)
Dog Treat Bakers Experiences:
Click below to see what other dog treat bakers are saying...

my dogs love em
Not sure what I did wrong but the dough was not rollable, but I ended up making drop cookie balls, which they didn't mind the shape or difference, they …