Potato Dog Treat Icing
Great for Meaty Treats
A mashed potato dog treat icing is perfect for treats with meat. In fact if you are going to frost your meaty treats, this recipe should be at the top of your list.
Looking for a meat based dog cake? Then try baking up a serving of the meat dog cake when you want to try this dog treat icing recipe.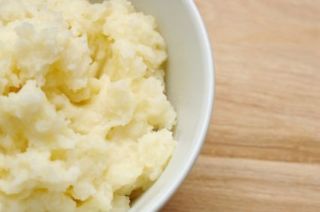 But you don't have to stop with meat flavored dog treats. This potato icing is also very good, and looks good, on other dog cake recipes, dog biscuits and dog cupcakes.
You can also add variety to this icing recipe by mashing in other cooked vegetables with the potatoes. Or, why not make a mock mashed potato icing with cooked cauliflower? Talk about a great way to get your dogs daily vegetables in a treat.
Parsley is a nice addition to this potato dog treat icing. The parsley adds color and may help with bad dog breath.
Ingredients:
2 medium Idaho potatoes, scrubbed
1/2 cup water (or enough to cover potatoes)
2 Tbsp parsley, chopped
1/8 cup fat free sour cream
Instructions:
Peel the potatoes, and cut away any green parts (see dangerous dog treats for more information).
Cut into 1 inch cubes for ease when mashing.
Bring potatoes and parsley to a boil.
Reduce heat, cover and simmer for 20 minutes.
Stir (and begin to mash) occasionally.
Add additional water if the potatoes are too dry.
Remove from heat.
Stir in the sour cream.
Continue to stir, mash or beat until no more lumps. Add additional water if the icing is too thick to spread.
When decorating your cakes or dog cupcakes with this potato dog treat icing, don't forget about the presentation. If you are topping a dog treat that has another vegetable in it, such as peas or carrots, why not place them around the border of the cupcake. You could also spell out your dogs name or a message in peas on the dog cake.
Try mixing up a batch for your next dog party. I bet your human guests will be jealous!
What's Your Dog's Tastebud Feedback?
Have you made this recipe? What was your experience? Did your dog gobble it up or take a polite sniff and walk away?

Share your dog's Taste Bud Feedback with other dog treat bakers.

Share photos of your dog, or your dog eating this homemade dog treat, or how the finished dog treat looks! :)
Dog Treat Bakers Experiences:
Click below to see what other dog treat bakers are saying...