A Fat Dog Deserves a
"Salad in a Dog Treat
Food rewards given to a fat dog should be low in fat and high in fiber. These salad dog treats are a great way to get filling vegetables into your dogs diet while still giving well deserved praise.
Salad Dog Treat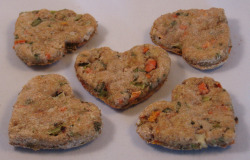 Ingredients:
1 cup fresh baby spinach (see note)
3/4 cup California Mix vegetables (broccoli, cauliflower, and carrots)
1/4 cup plain yogurt, low or fat free
1/2 cup applesauce, unsweetened
2 1/2 cups whole wheat flour
1/2 tsp baking powder

Yogurt Glaze:

1/2 tsp plain yogurt, low or fat free
2 tsp water
Additional Flour for Rolling
Instructions:
Preheat oven to 350° F
Finely dice the spinach and California mix vegetables. (See tips for a quicker way).
Put the vegetable mix into a large bowl.
Stir in the yogurt and applesauce into the veggie mixture.
In a medium bowl, whisk together the flour and baking powder.
Add the flour into the vegetable mixture about 1/3 at a time. Stir after each addition.
Knead the dough in the bowl until a firm ball is achieved.
Fold out onto a floured surface and roll out to 1/2 inch thick.
Cut out into shapes with a dog cookie cutter.
Spray a baking sheet with non-stick cooking spray.
Place the cut outs on the baking sheet.
In a small bowl, combine the yogurt and water.
Lightly brush the cut outs with a pastry brush.
Bake for 20 minutes.
Cool completely on a wire rack.
Storing - These salad dog treats will stay fresh in the refrigerator for up to 3 weeks. They will be good in the freezer for up to 6 months.
Yield - Using a 1 1/2 inch dog cookie cutter, you'll get about 4 dozen homemade dog biscuits.
Tips & Techniques
Spinach - Using baby spinach is preferred since it will have less of a bitter taste. You don't need to remove the stems of the spinach before dicing. To measure the spinach, gently press the leaves into the measuring cup until full.


Food Processor - Place the spinach and vegetables in a food processor and pulse until you've achieved a fine consistent dice.
If your fat dog, or extra fluffy companion, is needing to cut back on treats, these are a tasty substitute to more luxurious homemade dog treats. They're also full of flavor, so she'll never know the difference.
What's Your Dog's Tastebud Feedback?
Have you made this recipe? What was your experience? Did your dog gobble it up or take a polite sniff and walk away?

Share your dog's Taste Bud Feedback with other dog treat bakers.

Share photos of your dog, or your dog eating this homemade dog treat, or how the finished dog treat looks! :)
Dog Treat Bakers Experiences:
Click below to see what other dog treat bakers are saying...

Isis and Goddess love these treats!
The dough was easy to work with, all the veggies look like confetti. I made them for St. Patrick's day, and Goddess and Isis loved helping me make them! …