Banana Pecan
Dog Cake Recipe
Let the aromas of this banana pecan dog cake fill your house. But you may want to be prepared to bake a human cake so your two legged family members don't get jealous!
This cake is beautiful just the way it is, but if you want, you can decorate this cake with a dog treat icing recipe.
You can substitute the dry ginger for fresh ginger. Do so at a ratio of 6 parts fresh for 1 part ground. You can also substitute another type of nut for the pecans. Be sure to review the list of dog treat ingredients for all substitutions.
Bananas are a good source of vitamin B6, C and potassium and pecans are a good low fat source of vitamin E.
We can't forget about the cinnamon! It may help fight bad dog breath. So what's not to love with this banana pecan puppy cake?
Note - Review tips on how to bake a beautiful bundt cake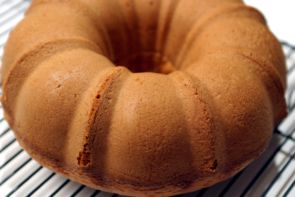 Ingredients:
2/3 cup bananas, mashed
1/2 cup butter, softened
3/4 cup water
3 large eggs
2 cups whole wheat flour
2 tsp baking powder
1 tsp baking soda
1 tsp dried ginger
2 tsp. cinnamon
1/2 cup pecans, chopped
Instructions:
Preheat oven to 350° F
Whisk flour, baking powder, baking soda, ginger and cinnamon together in a medium bowl. Set aside.
Beat together the bananas and butter until creamy.
Beat in water and eggs one at a time.
Stir dry ingredients into the banana mixture.
Stir in pecans.
Spoon batter evenly into a prepared bundt pan.
Bake for 35 minutes.
Cool on wire rack for 5 minutes.
Remove from pan and let cool completely on a wire rack.
Tips & Techniques
Safe Nuts for Dogs - Not all nuts are safe for our dogs to eat. Macadamia nuts and walnuts should never be given to your dog. However, peanuts, almonds and pecans are safe for your dog to eat. Nuts in general get a very bad rap when it comes to foods that are safe for our dogs. The reason is because nuts have a very high fat content for their serving size. However, if you give a small amount, like in this dog cake, your dog should be just fine. If you are still concerned, feel free to omit the pecans from this recipe.
What's Your Dog's Tastebud Feedback?
Have you made this recipe? What was your experience? Did your dog gobble it up or take a polite sniff and walk away?

Share your dog's Taste Bud Feedback with other dog treat bakers.

Share photos of your dog, or your dog eating this homemade dog treat, or how the finished dog treat looks! :)
Dog Treat Bakers Experiences:
Click below to see what other dog treat bakers are saying...