Cherry Oatmeal Muffin
Dog Treat Recipe
Baking a cherry oatmeal muffin is a delicious way to supply your dog with healthy antioxidants.
Do you have a small dog or know of one? If so, you know that size doesn't matter. They may have the same big personality as any dog several times their size.
Well, the same is true with a cherry. It may be a small fruit, but it packs a powerful punch. This little berry contains antioxidants and nutrients such as beta carotene, vitamin C, potassium, magnesium, iron, fiber and folate. Now you know why it's called a Superfruit!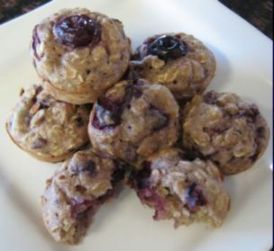 The cherry provides powerful antioxidants called anthocyanins. These are what give the cherry its deep red color.
They are also responsible for helping reduce inflammation which gives relief to arthritis. It also reduces risk factors for heart disease. Please consult your veterinarian before implementing changes to your dogs health regimen.
A fantastic way of getting more cherries into your dogs diet is to bake this cherry oatmeal muffin.
Ingredients:
1 cup rolled oats
1 cup whole wheat flour
1/2 tsp. cinnamon
3/4 cup buttermilk
1 egg, slightly beaten
1/4 cup applesauce, unsweetened
1 cup frozen tart cherries, rinsed and roughly chopped
Instructions:
Preheat oven to 400° F
Spray muffin pan with non stick spray with flour.
Stir oats, flour, and cinnamon in a large bowl.

In a separate medium bowl, stir buttermilk, egg and applesauce.

Pour buttermilk mixture into the oats mixture.
Stir just until moist.
Stir in cherries (no need to thaw, they can go in frozen).

Fill muffin cups 2/3 full.
Bake for 15-20 minutes, or until toothpick comes out clean.
Cool for 5 minutes in the muffin pan on a wire rack.
Remove from pan and cool completely on a wire rack before serving.
Storing: This cherry oatmeal muffin is a soft baked treat so they need to be stored in the refrigerator. They will stay fresh in the refrigerator for 2 weeks. Only keep out what your dog will eat during that time. You can freeze the remainder for up to 3 months.
Tips & Techniques
Muffin Pan & Options - This recipe is designed for a 12 cup muffin pan. However, you can use a large, medium or small muffin tin for this recipe. Just be sure to adjust the cooking times. Don't have a muffin tin? You can use a cookie dropper and make cherry oatmeal dog cookies instead. To make these humble muffins for a dog party, use a mini bundt pan. You can find tips on using a bundt pan if you're not familiar with one.


Muffin or Cupcake? - One of the differences between a muffin and a cupcake is the frosting. Choose adog treat icing to top this and other vegetarian dog treats. Or, another way to add a decorative touch is to place a half cherry on top of the muffin before it's baked.


Fresh Cherries - If cherries are in season you can freeze them for future use. Simply wash, remove the pit and dry the cherries. Then lay them in a single layer on a baking sheet. Place them in your freezer until completely frozen. Then place them in a freezer bag. Although this process takes a couple extra steps, you'll thank yourself later when you want just a few, and you don't have to thaw the whole bag!


Buttermilk - If you don't have buttermilk on hand, you can make your own. Just add lemon juice to regular milk. Pour one tablespoon of lemon juice into a one cup measuring cup. Then fill the rest with milk. Wait 5 minutes, and presto you have a substitute for buttermilk.
The health benefits of a cherry oatmeal muffin is not restricted to your sweet dog. So go ahead, you can have a nibble of your dogs cherry dog treats, I won't tell.
What's Your Dog's Tastebud Feedback?
Have you made this recipe? What was your experience? Did your dog gobble it up or take a polite sniff and walk away?

Share your dog's Taste Bud Feedback with other dog treat bakers.

Share photos of your dog, or your dog eating this homemade dog treat, or how the finished dog treat looks! :)
Dog Treat Bakers Experiences:
Click below to see what other dog treat bakers are saying...