Make Beet Chips for an Easy
Vegetarian Dog Treat
This vegetarian dog treat is easy and makes for sweet homemade dog treats.
Dogs will love the sweetest of all vegetables, the beet. Actually, it gets even sweeter when it's dried because the sugars are concentrated.
Although the beet has a high sugar content, it is still very low in calories and fat. That, plus the fact that it is a good source of Vitamin C, Potassium, Fiber, Iron, and Folic Acid, make it perfect for dog training treats.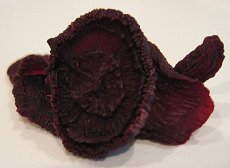 Ingredients:
Instructions:
Preheat oven to 350° F
Line a baking sheet with parchment paper.
Drain the beets and rinse until the water runs clear.
Place slices of beet in a single layer.
Bake for 35 minutes. Turn off the oven and let them sit for 10 minutes.
Cool completely on a wire rack.
Storing: These chewy beet chips dog treats will last in the refrigerator for 3 weeks. You can freeze them for up to 4 months.
Tips & Techniques
Fresh Beets - You can use fresh beets if you'd like. You'll need to adjust the baking time to approximately 30 minutes. Slice the beets 1/4 inch thick. Also, after peeling and slicing the beets, you'll need to lightly coat them with cooking spray, extra virgin olive oil, or another cooking oil.


Low Sodium - If you can find canned beets with low sodium, those are the preferred choice. Rinsing the beets in the steps above helps remove some of the salt, but starting with less is better.


Small Pieces - The extra small pieces of sliced beet may get too crunchy in the oven. The extra crispy pieces should be discarded, or re-hydrated in water, so they don't harm your dog's mouth.


If your dog enjoys these beet chips, be sure to try these Soft Vegan Dog Treats recipe for dried apple chewies. Or, check out more vegetarian dog food, dog treats, and ideas.
Even though the beet originated in the Mediterranean, you don't have to have a Mediterranean breed like the Bichon Frise, Maltese, or Havanese to appreciate this delicious vegetarian dog treat, dried beet chips.
What's Your Dog's Tastebud Feedback?
Have you made this recipe? What was your experience? Did your dog gobble it up or take a polite sniff and walk away?

Share your dog's Taste Bud Feedback with other dog treat bakers.

Share photos of your dog, or your dog eating this homemade dog treat, or how the finished dog treat looks! :)
Dog Treat Bakers Experiences:
Click below to see what other dog treat bakers are saying...

Recipe Reviews for Dried Beet Chips
Read all the reviews for this recipe, and then try it out for yourself. Don't forget to come back here and let us know what your dog thought or ask …