Recipes for Pet Treats:
Pumpkin Pie Dog Biscuits
We have many recipes for pet treats made with pumpkin. Have you ever wondered "Why Pumpkin for Dogs"?
Simply put, pumpkin is full of fiber, low in fat, and sweet. This means that your dog will feel full, not gain extra weight, and feel satisfied with sweet homemade dog treats.
Homemade or store bought, pumpkin pie is a seasonal favorite. Now your dog can enjoy it, too!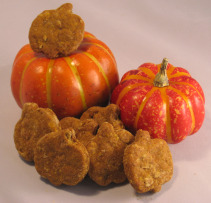 Ingredients:
1 1/2 cups whole wheat flour
1 cup rolled oats
2 tsp. baking powder
1 tsp. cinnamon
1 tsp. ginger
1 tsp. allspice
2 tbsp. canola oil
1/2 cup pure pumpkin (not pumpkin pie filling)
1/4 cup natural peanut butter, smooth
1/4 cup water
Additional Flour for Rolling
Instructions:
Preheat oven to 325° F
In a large bowl, whisk together the flour, oats, baking powder, cinnamon, ginger, and allspice.
In a medium bowl, stir the canola oil, pumpkin, and peanut butter.
Make a well in the flour and pour in the pumpkin mixture.
Using a stand mixer, begin to combine the wet and dry ingredients on low.
Pour in the water and mix on low, to medium low, until thoroughly combined.
Turn the dough onto a floured surface, and hand knead the dough until no longer sticky.
Roll out to 1/4 inch thickness and cut into shapes with your favorite dog cookie cutters.
Spray a baking sheet with baking spray.
Place the cookies on the baking sheet and bake for 12 minutes.
Turn the oven off and leave in for another 30 minutes.
Cool completely on a wire rack before serving.
Storing - This recipe, as well as other recipes for pet treats, can be stored for later enjoyment. Since they are baked quite hard, you can keep them in an air tight container for approximately 2 weeks. If you bake a softer pumpkin pie biscuit, you can store them in the refrigerator for 4 weeks, and in the freezer for 6 months.
Yield - You will get around 100 cookies using a small 1 inch cookie cutter. You most likely will get two baking sheets full of cookies, no matter what size cookie cutter you use.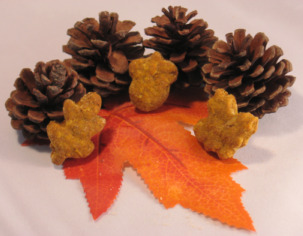 Tips & Techniques
Stand or Hand Mixer - Some recipes for pet treats instruct you to use a stand mixer. The difference between a stand mixer and a hand mixer, is that the stand mixer can easily handle very thick dog cookie dough. A stand mixer is such a wonderful kitchen tool, I didn't believe it until I got one. What a huge time saver! If you do not have one, you can carefully use a hand mixer, instead. Just start slow, and keep an eye on your dough. You can burn out the motor of a hand mixer if all the dough gets caught in the mixers.


Cookie Cutters - A pumpkin cookie cutter is definitely in order for these pumpkin pie dog biscuits. If you don't have one, fall favorites like leaves and nuts will be very cute and appropriate as well.
What's Your Dog's Tastebud Feedback?
Have you made this recipe? What was your experience? Did your dog gobble it up or take a polite sniff and walk away?

Share your dog's Taste Bud Feedback with other dog treat bakers.

Share photos of your dog, or your dog eating this homemade dog treat, or how the finished dog treat looks! :)
Dog Treat Bakers Experiences:
Click below to see what other dog treat bakers are saying...

I loved this recipe!
This was such a great recipe I made these 2 days before thanksgiving to give my dogs a nice treat I would definitely recommend these to all dog owners …