Recipe for Dog Treats -
Double Sweet - Sweet Potato Cookie
Does your little sweetie have a sweet tooth? Then she'll love this sweet potato recipe for dog treats. The sweetness comes from the natural sugars in the sweet potato and a little honey, not all those refined sugars that aren't needed in your dog's diet.
Sweet potatoes are a great addition to your regular dog treats. They are full of beneficial vitamins such as A, B6 & C.
Consider making these homemade dog treats if you need diabetic dog treats. Sweet potatoes may aid in stabalizing blood sugar and lower insulin resistance, plus they taste great.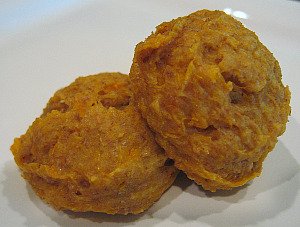 Ingredients:
1 large sweet potato
1/4 cup applesauce, unsweetened
1/8 cup honey
1 egg
1 cup whole wheat flour
Instructions:
Preheat oven to 350° F
Peel and cut sweet potato into 1 inch chunks. Place the potato pieces into a microwave safe bowl, cover with a paper towel and heat for 2 minutes, or until soft.
Mash soft potato chunks with a fork.
Stir together the sweet potato with the applesauce and honey.
Lightly beat the egg and stir into the potato mixture.
Gradually stir in the flour until thoroughly combined.
Spray a baking sheet with nonstick cooking spray.
Using a 1 inch cookie scooper, place rounded mounds onto the prepared baking sheet.
Bake for 20 minutes.
Cool completely on a wire rack before serving.
Storing - This dog treat recipe makes a soft dog treat. Because of the extra moisture in the treat, they should be kept in the refrigerator for no more than one week. Store them in the freezer for up to 6 months.
Yield - Using a 1 inch cookie scooper, you will make approxiamately 20 sweet potato dog cookies.
Tips & Techniques
Pumpkin - You can substitute or mix in fresh or canned pumpkin for this recipe for dog treats. If you use canned pumpkin, be sure that it is pure pumpkin, and not pie filling.


Wheat Free - Make this homemade dog treat wheat free with a wheat and gluten free flour like potato, rice or oat flour.
The soft and chewy texture of this double sweet - sweet potato recipe for dog treats is a seasonal favorite that can be enjoyed all year long.
What's Your Dog's Tastebud Feedback?
Have you made this recipe? What was your experience? Did your dog gobble it up or take a polite sniff and walk away?

Share your dog's Taste Bud Feedback with other dog treat bakers.

Share photos of your dog, or your dog eating this homemade dog treat, or how the finished dog treat looks! :)
Dog Treat Bakers Experiences:
Click below to see what other dog treat bakers are saying...

Sweet potato dog cookie - variations
sweet potato cookie - I grind up a chicken breast add applesauce, and oats, no flour. dehydration over night and my pups will take your finger off. you …