Pumpkin Dog Treats
with Honey, Cinnamon and Cloves
Pumpkin may be a fall time favorite, but pumpkin dog treats are an anytime favorite with dogs.
And who could blame them, pumpkins are a good source of beta-carotene, potassium, iron, zinc and vitamin C. They are also high in fiber and low in fat.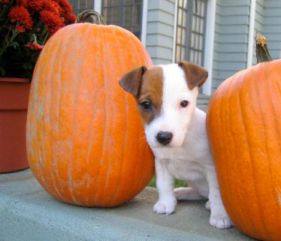 Pumpkin is even a fine choice for dogs with sensitive stomachs. A small amount can aid in relieving symptoms of diarrhea and constipation.
Tip: When you're purchasing canned pumpkin, be sure that it is not pumpkin pie filling.
Ingredients:
2 cups oat flour
2 tsp. baking powder
2 tsp. cinnamon
1/2 tsp. ground cloves
3 eggs
3/4 cup honey
1/4 cup canola oil
1 15 oz. can pumpkin puree
Instructions:
Preheat oven to 350° F
Mix all ingredients together in one bowl.
Lightly spray muffin cups or line with cupcake papers.
Spoon mixture into each cup.
Bake for 15 minutes in a mini muffin pan. Or, bake for 25 minutes in a regular muffin pan.
Cool completely on a wire rack.
Yield: 24 mini muffins or 12 regular muffins
Storing: These pumpkin muffin treats will last for about 1 week in the refrigerator. They will be good for up to 6 months in the freezer.
What's Your Dog's Tastebud Feedback?
Have you made this recipe? What was your experience? Did your dog gobble it up or take a polite sniff and walk away?

Share your dog's Taste Bud Feedback with other dog treat bakers.

Share photos of your dog, or your dog eating this homemade dog treat, or how the finished dog treat looks! :)
Dog Treat Bakers Experiences:
Click below to see what other dog treat bakers are saying...